Regular price
$209.99 USD
Regular price
$299.99 USD
Sale price
$209.99 USD
Unit price
per
Sale
Sold out
About this item
Geekpure Whole House 12 GPM Water Filter,No Secondary Pollution.No chemical added to the water supply.No change in taste, odor, pH or conductivity nor the general chemistry of the water

100-140 v / 50-60 Hz.Flow rate: 12 GPM

Equip with Stainless steel 304 chamber with 1.0 inch MNPT inlet / outlet, 1x electronic ballast with audible and visual alarm,3 x UV filter ,3 x quartz sleeve,3 x fixed clamp

Last 9000 hours min,Works night and day, 24/7, consistently keeps water pure. Warranty: 1 year

It is Installed at the main water supply and produce pure water for your entire home. Enjoy better water from every tap and every appliance in the whole house
Product description
Specification:
FEED WATER PRESSURE: 40 - 100 PSI
TEMPERATE:40-110°F/5-45°C
PH:3.0 -11.0
MAX TDS :1000 PPM
RESIDUAL CHLORINE<0.1mg/L
TURBIDITY <1.0 NTU
MAX SDI <4.0
HARDNESS <5 GPG
IRON <0.1
MANGANSESE <0.05
Shelf life: 3 Years
Warranty: 1 year limited warranty

More valuable information:
✪What is dimension of installed Geekpure UV Water Filter?
please leave space 38"x4"x4" for the unit.
✪Where can i buy replacement parts?
Please choose from following link
https://geekpure.cc/search?q=12+gpm

✪What is in the box?
There is 1X stainless steel 304 vessel,3 X UV filter ,3 X quartz sleeve,3 X fixed clamp ,1 X ballast and user manual in the box.
✪BPA free?
Yes, BPA free.

Note:
1.It Is Recommended to Wait Until the Entire System Is Pressurized and Re-Check for Any Leaks Before Leaving Installation Site.
2.The First 2 Gallons of Water Produced Should Not Be Used.
Share
View full details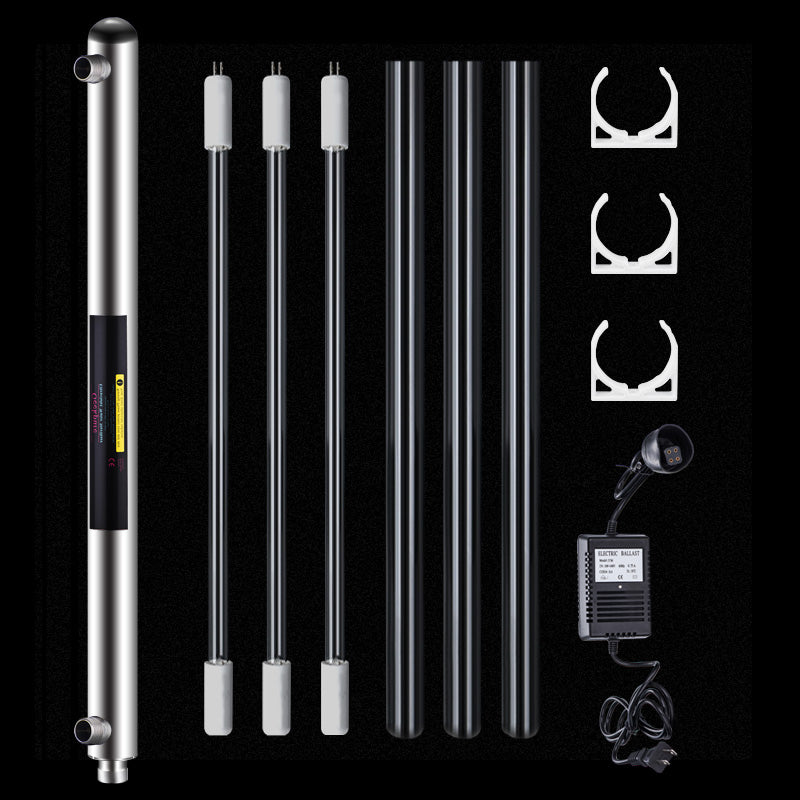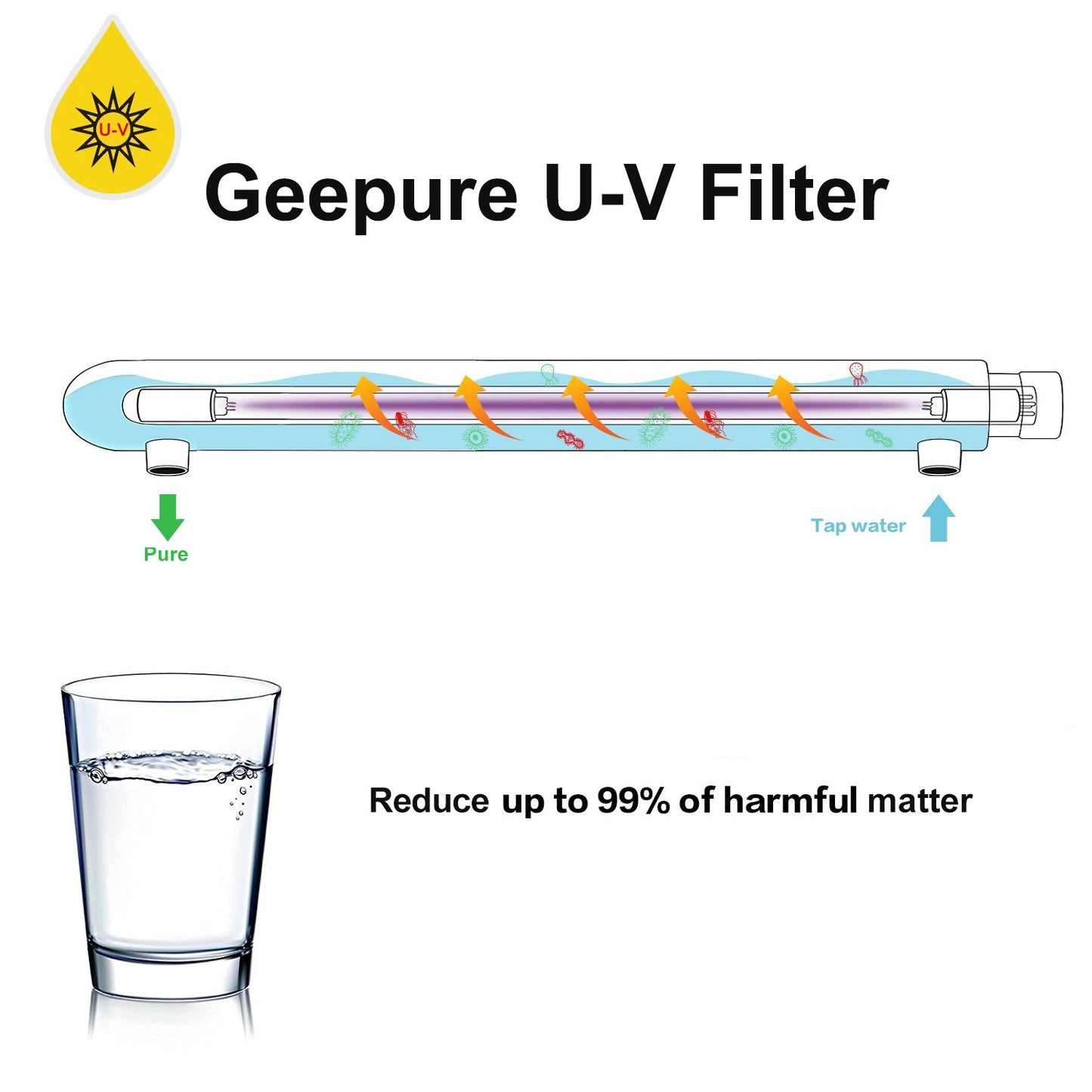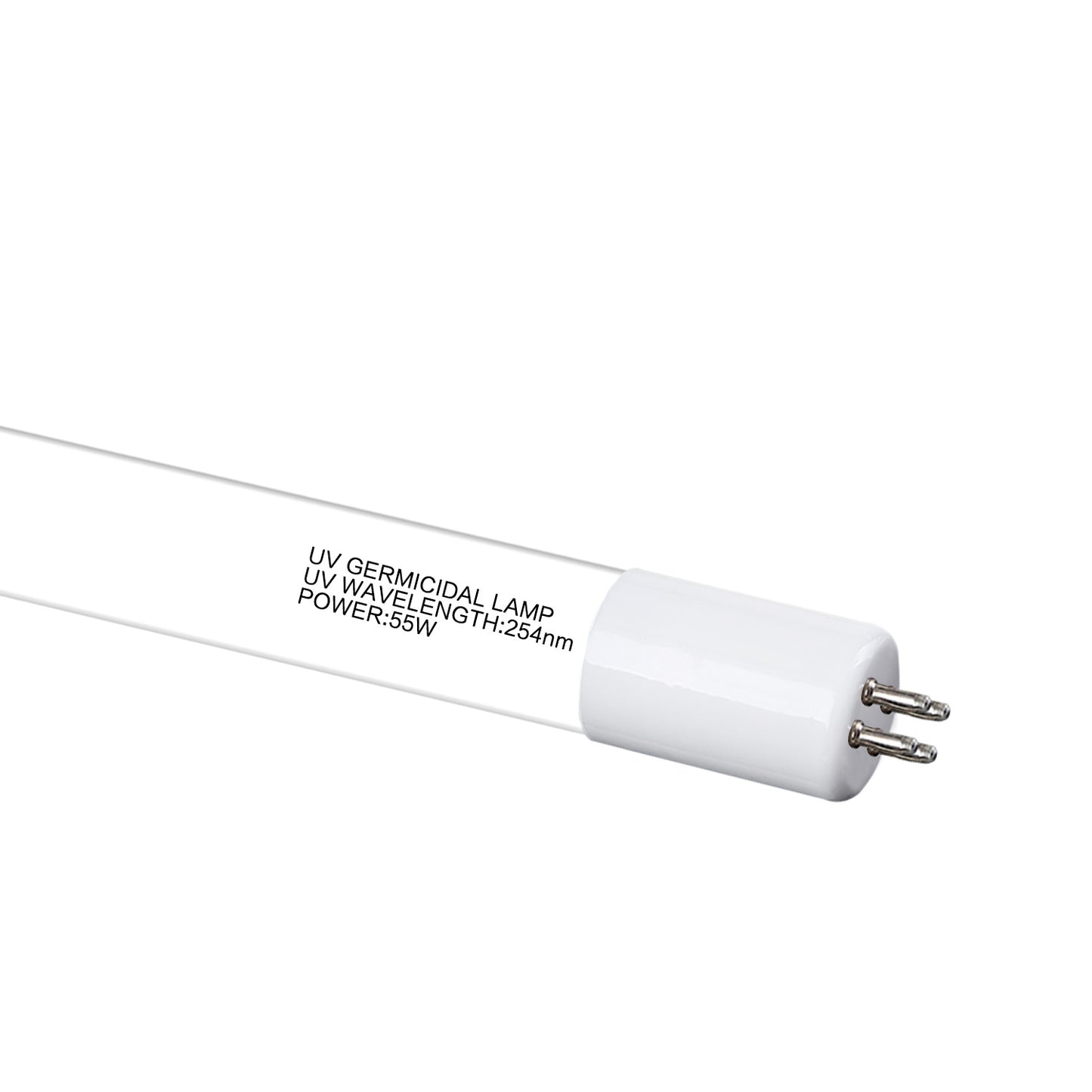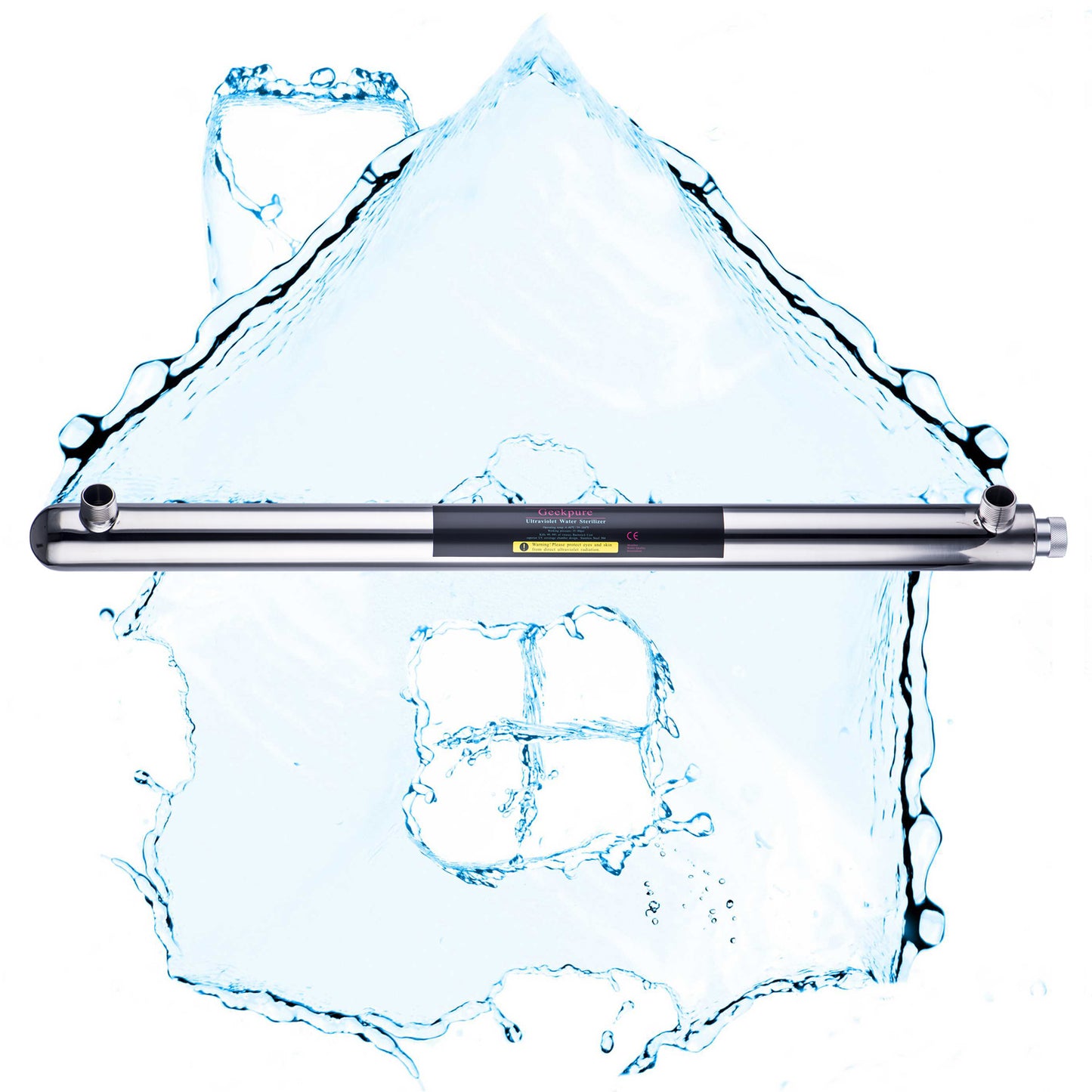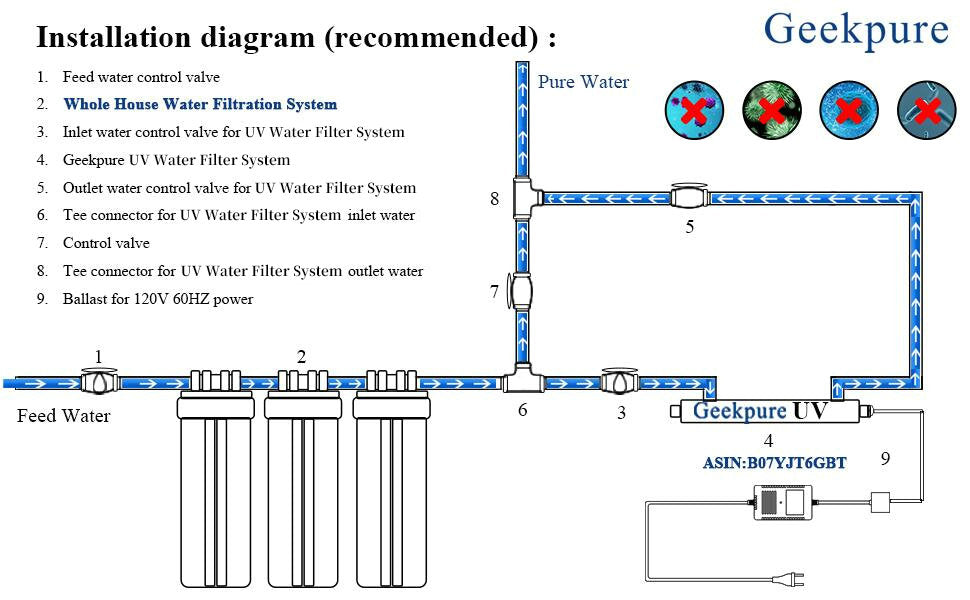 Great UV Light for a Great Price!
The UV light was fairly easy to install, It came with all the needed parts to assemble. I'm personally running 80 psi of water pressure through it and have not had any issues. It keeps up to 2 active houses for the flow of water and it does great. Overall it is well worth the money and I will be buying another one for another house soon!
Great Product!-Great Value!-Great Company!-Easy Install!-Great Piece of Mind!
I'm remodeling a home in rural KS and replaced all the appliances and the existing water softener went on the fritz. The well known national company that made it wanted $2000 to replace it with a new one! So I found a highly rated softener, a triple water filter and this UV sanitizer for less and installed it myself. The UV sanitizer was a breeze to install. I mounted mine vertically to save space and I would recommend that if you do so also mount a 1 inch support to hold the weight of the stainless steel tube below it as the plastic clips that hold the unit could be a little tighter for a vertical installation. I also had to countersink the plastic clips mounting holes to allow the screw heads to be flush with the inside bottom of the clips so the tube would fit snugly. I would recommend that you use at least 10 wrappings of teflon tape on the inlet/outlet threads and assemble the 2 PVC adapters BEFORE mounting to get them really tight to not leak. For good measure I also used this tape around the glass tube inlet fitting to also keep from leaking. There is an install video for the glass tube install on YouTube but be sure to wear rubber gloves when installing the glass tube to keep any contaminates off of the glass tube and only hand tighten this fitting. After plumbing the fixture and mounting to the wall I would also recommend removing the bulb just far enough out of the cardboard tube to grasp the white part and plug it into the socket before installing to align the pins as the pins are not a perfect square they, are a rectangle. Be sure to wear gloves to handle the bulb also. That's it! Really easy install. I bought this one from Geekpure because of the 3 bulbs and 3 glass tubes that come with it which is more than anyone else offered and they can be very expensive to replace, but I only received 2 of each. I contacted Geekpure and they sent out 2 more of each that very same day even though I was only missing one! Great customer service. There is a Disinfection Procedure in the instructions that calls for running bleach (chlorine) through out all your plumbing in the house to sterilize the lines until you "smell" the chlorine. I can't smell things very well and I have a hot tub so I used the water test strips (search on 1530100020 for $10/100 test strips) to be sure when there was plenty of chlorine coming out of all the lines and also later to test when flushing all the chlorine out of the lines and test the condition of the water. I was sure to flush all the toilets, run the dishwasher and the clothes washer (both empty) during this procedure. This will also help sanitize all the drains as well. If you have a filter, water dispenser and ice maker in your refrigerator I would recommend NOT use it during this procedure until your sure the lines have been thoroughly flushed out. If you think there maybe germs in this line remove the filter, disinfect and replace a NEW filter when done and throw away the first full tub of ice made. My family has had many bad experiences with "tap" water in the past and adding this "whole house" UV sterelizer that virtually eliminates all germs to my system now gives me piece of mind and for this small price with the extra bulbs and glass tubes it was a real no brainer, only wish I had done it many years ago! Hope this helps and may you NEVER buy bottled water again!! (such a waste of time, money and trash!)
Saved our drinking water! Best purchase!
This product has allowed my family to drink our well water once again! We had our well head replaced which introduced coli form bacteria into our drinking water. We ordered this product which arrived quickly. The installation was quick and easy for an average homeowner. We got our water retested and we are coliform free!