Regular price
$149.99 USD
Regular price
$189.99 USD
Sale price
$149.99 USD
Unit price
per
Sale
Sold out
About this item
Advanced Technology-5-Stage Reverse Osmosis Drinking Water Filter System,Filter down to 0.0001 micron.Removes arsenic,lead,fluoride,mercury,cadmium,odor,heavy metals and 1000+ contaminants

Replacement filters and parts are universally compatible and standard size,No worry for furtuer filter replacement ,Other brands filters fit the system

Premium quality components ensure highest reliability and low maintenance for many years to come. All tube,quick push fittings, storage tank,Ro membrane is NSF certificated,to provide healthy and pure water. LEAD FREE deluxe kitchen sink faucet as last pure water guarantee in your home

System Capacity 75 gallons per day @ 60 psi.Tank Capacity 2.8 gallon,Fits most under sink cabinets,smart size for ensure you get pure water every time.Pipe Size:1/4 inches and 3/8 inches.The Ratio of pure water and waste water is 1:2.Feed Water Condition:Water Pressure: 40 - 100 psi,Temperate:40-110°F/5-45°C,Ph:3.0 -11.0,Max TDS :2000 ppm tap water or well water

System comes with quick connect fittings, color coded tubing, and videos for an easy DIY experience,Don't waste money for professional installation ,you can understand everything about your system and install it with our well-organized instructions in a couple of hours. 1 year manufacturer warranty,no need registration
Specification:
FEED WATER PRESSURE: 40 - 100 PSI
TEMPERATE:40-110°F/5-45°C
PH:3.0 -11.0
MAX TDS :1000 PPM
TURBIDITY < 1.0 NTU
MAX SDI <4.0
HARDNESS < 5 GPG
IRON <0.1
MANGANSESE <0.05
Shelf life: 3Years
Warranty: 1year limited warranty

More valuable information:
✪What is dimension of installed Geekpure RO5?
RO unit: Length 14.20 inch, Width 6.2 inch, Height 18.1inch.
Storage tank: Diameter 9.45 inch, Height 14.4inch.
weight:24lb
✪What is 5stage filter and function?
the 1st stage: PP spun filter, Remove sand, dirt, sediment.
the 2nd stage: Granular carbon filter, Remove chlorine, taste & odors, very fine particulates
the 3rd stage: Carbon block filter, Further remove chlorine, taste & odors, very fine particulates
the 4th stage: TFC Ro membrane, Reduce 99% total dissolved minerals, heavy metal, Arsenic, Mercury, Iron, lead ,Fluoride and 1000+ contaminants .
the 5th stage:Post inline acid washed coconut carbon filter, Polish water for refined taste.
✪Where can i buy replace filters?
for 1-3stage, please search B074XGB32J.
for the 4th stage, please search B074W72NNW .
for the 1-3&5th stage ,please search B074XCYF93.
✪What is in the box?
1SET filters (5 pieces filters),faucet,diverter valve,storage tank,2 pieces wrench,some fittings,water pipe,clips,drain clamp,teflon tape and so on.
✪BPA free?
Yes, BPA free ,Lead free faucet and food grade materials.

Note:
1.It Is Recommended to Wait Until the Entire System Is Pressurized (Including Storage Tank&Faucet) and Re-Check for Any Leaks Before Leaving Installation Site.
2.It Is Normal for Some Black Carbon Fines to Appear in The Water When Emptying the First 2 Tanks of Water. The First 2 Tanks of Water Produced Should be Emptied and Not Used.
3.Push the Tubing All the Way in and Use Teflon Tape During Installation.
Share
View full details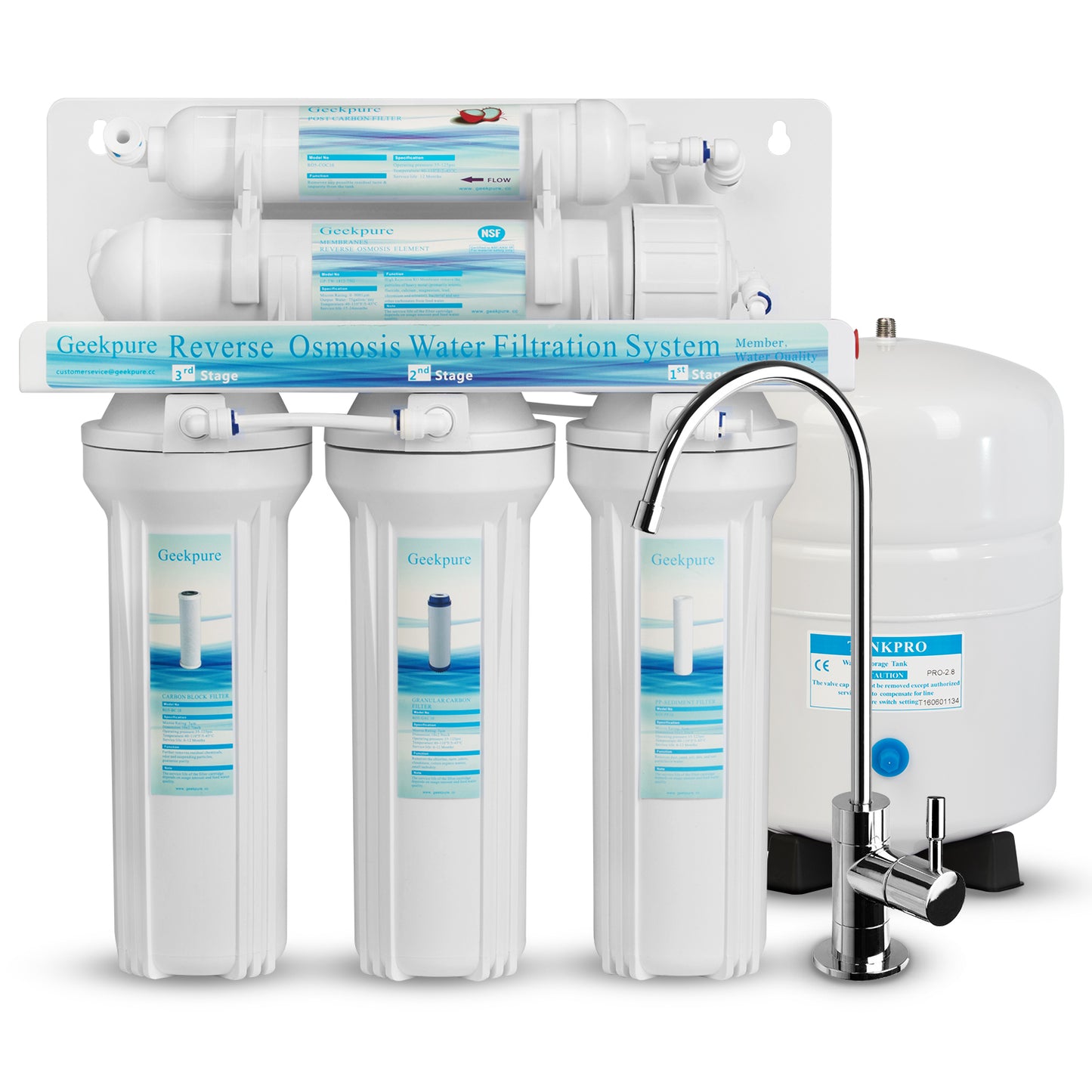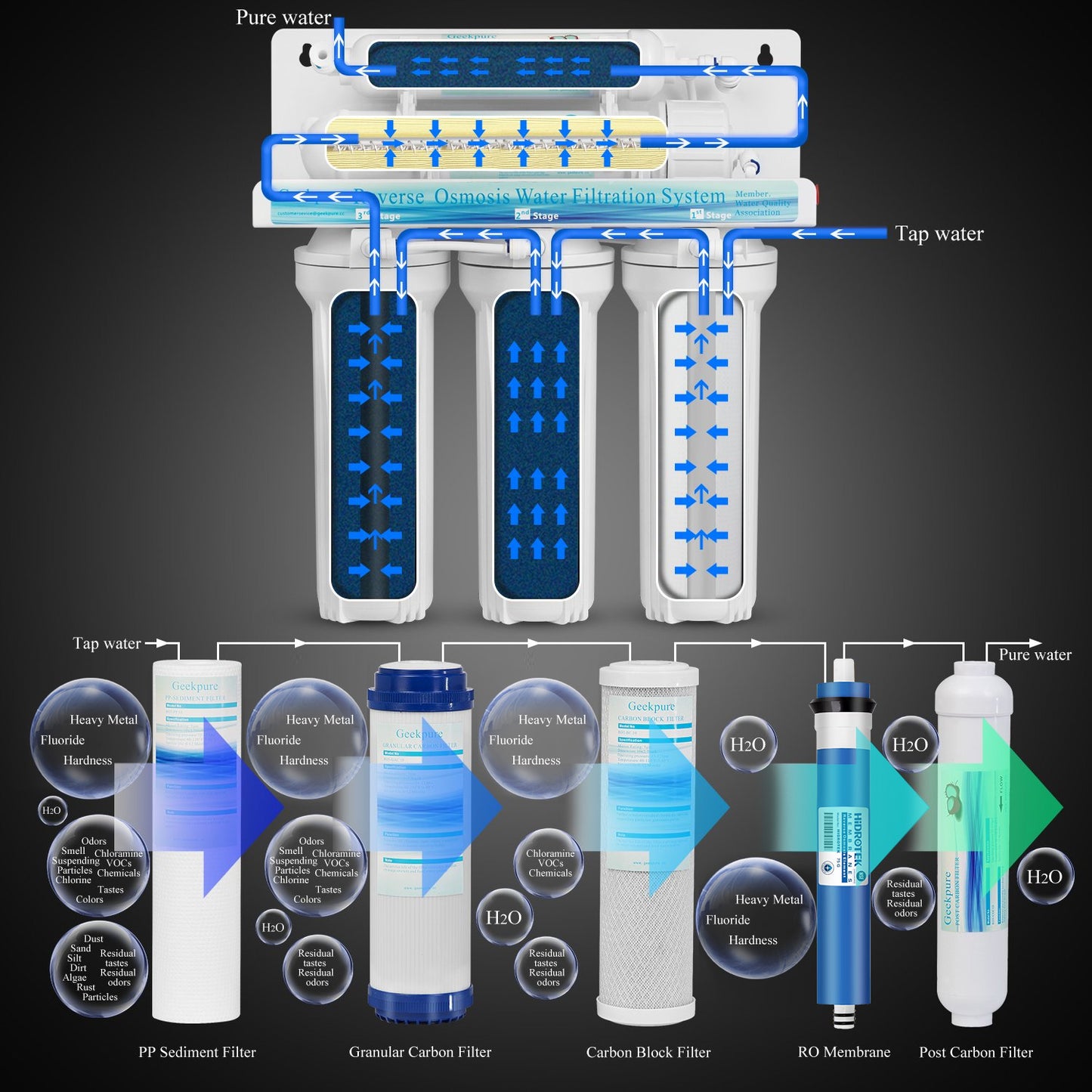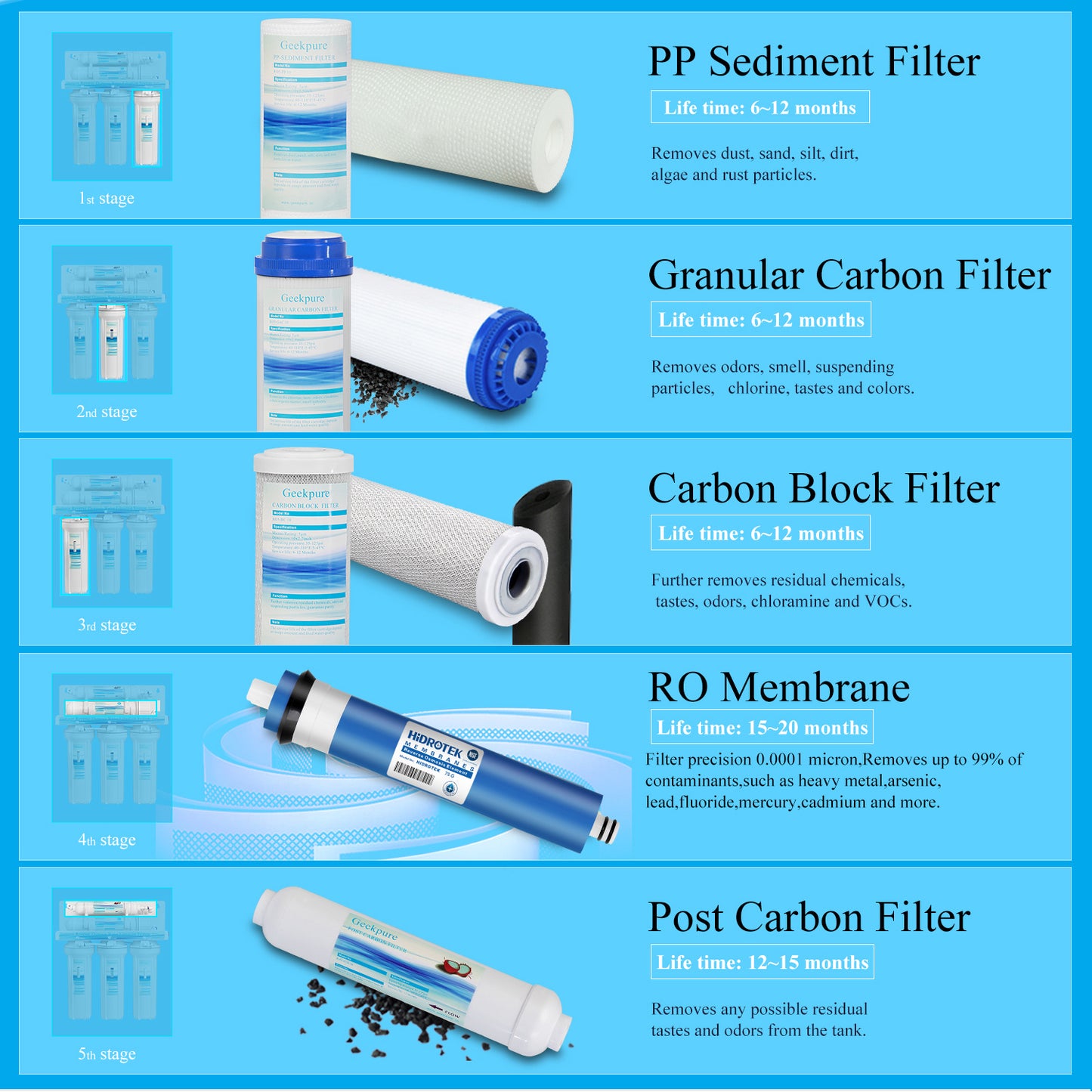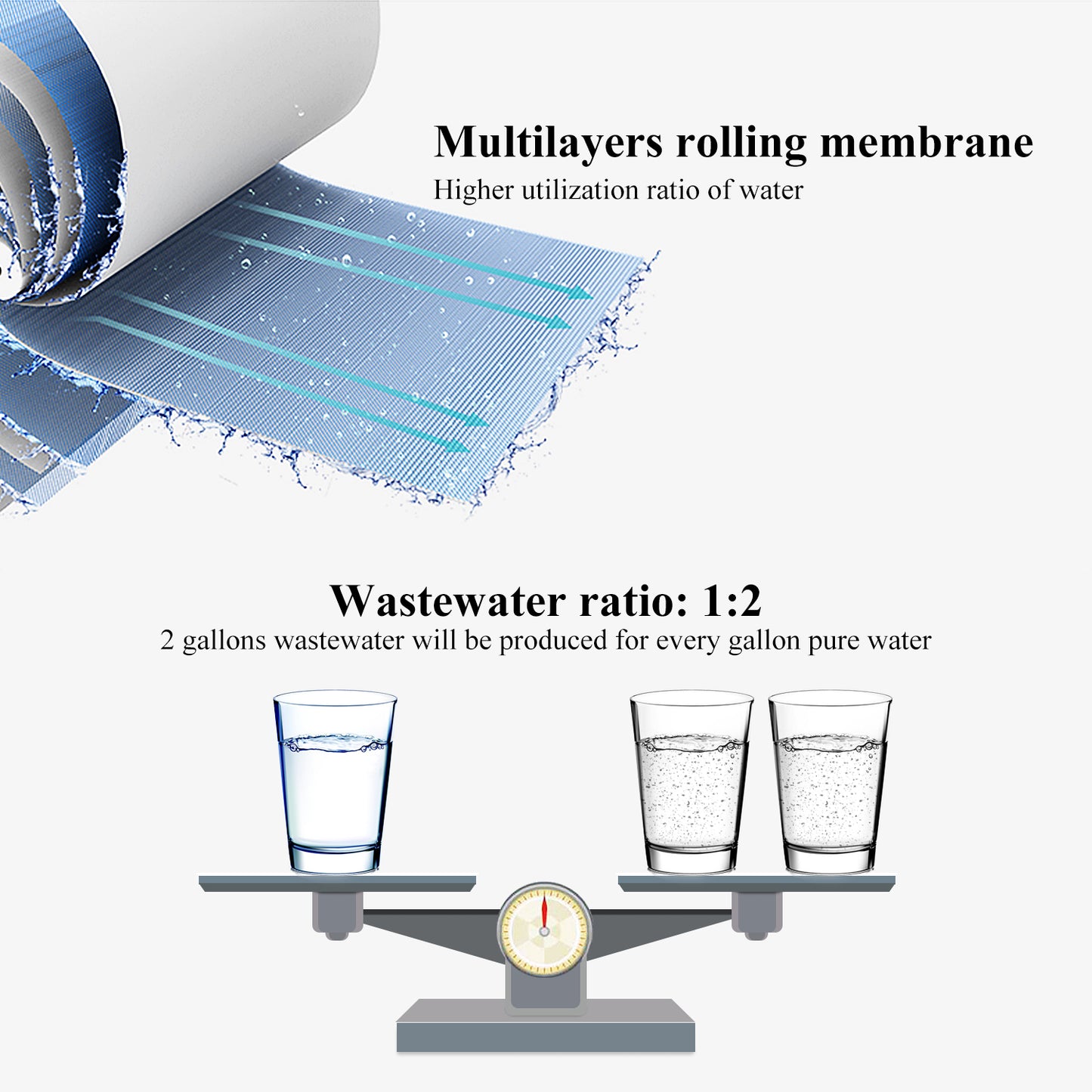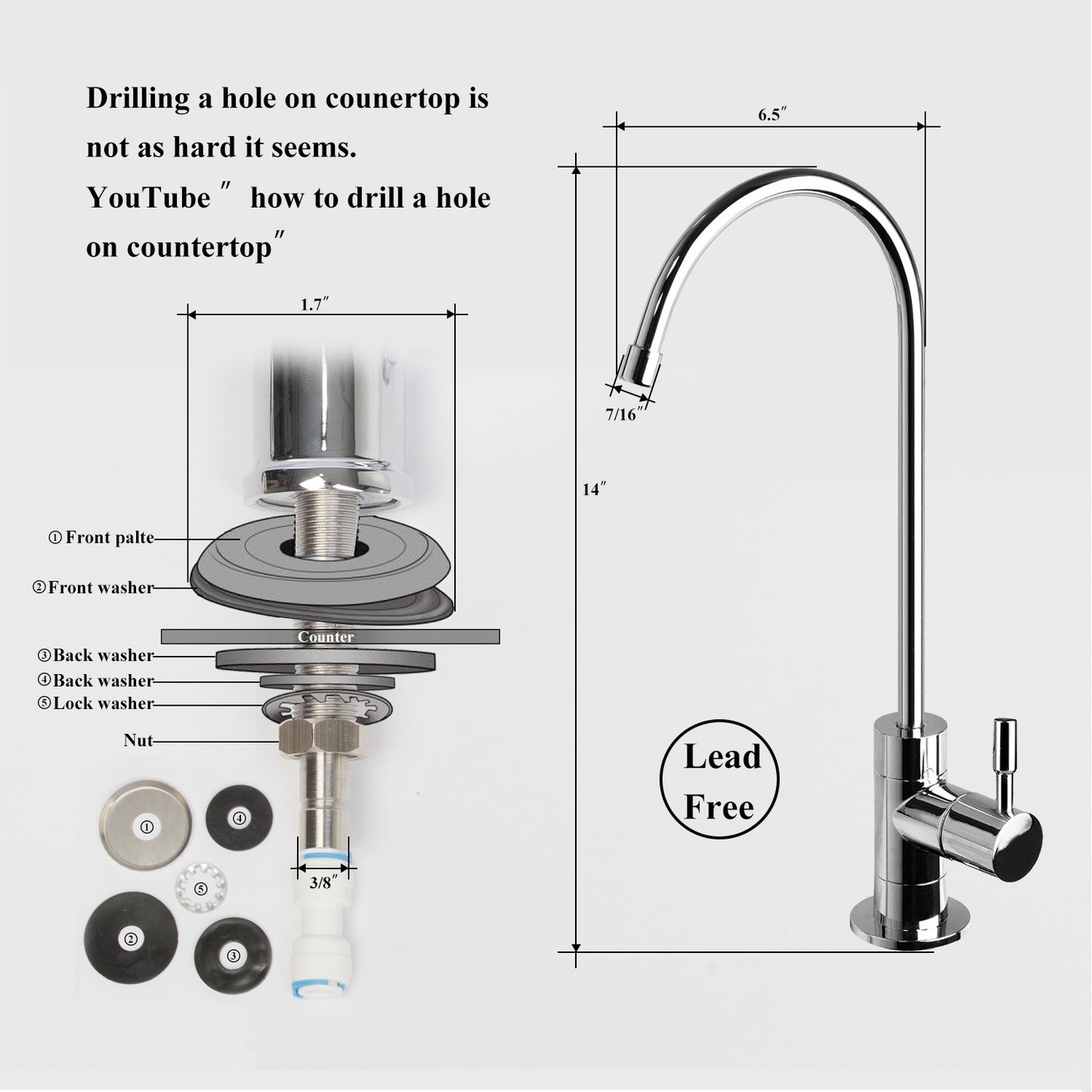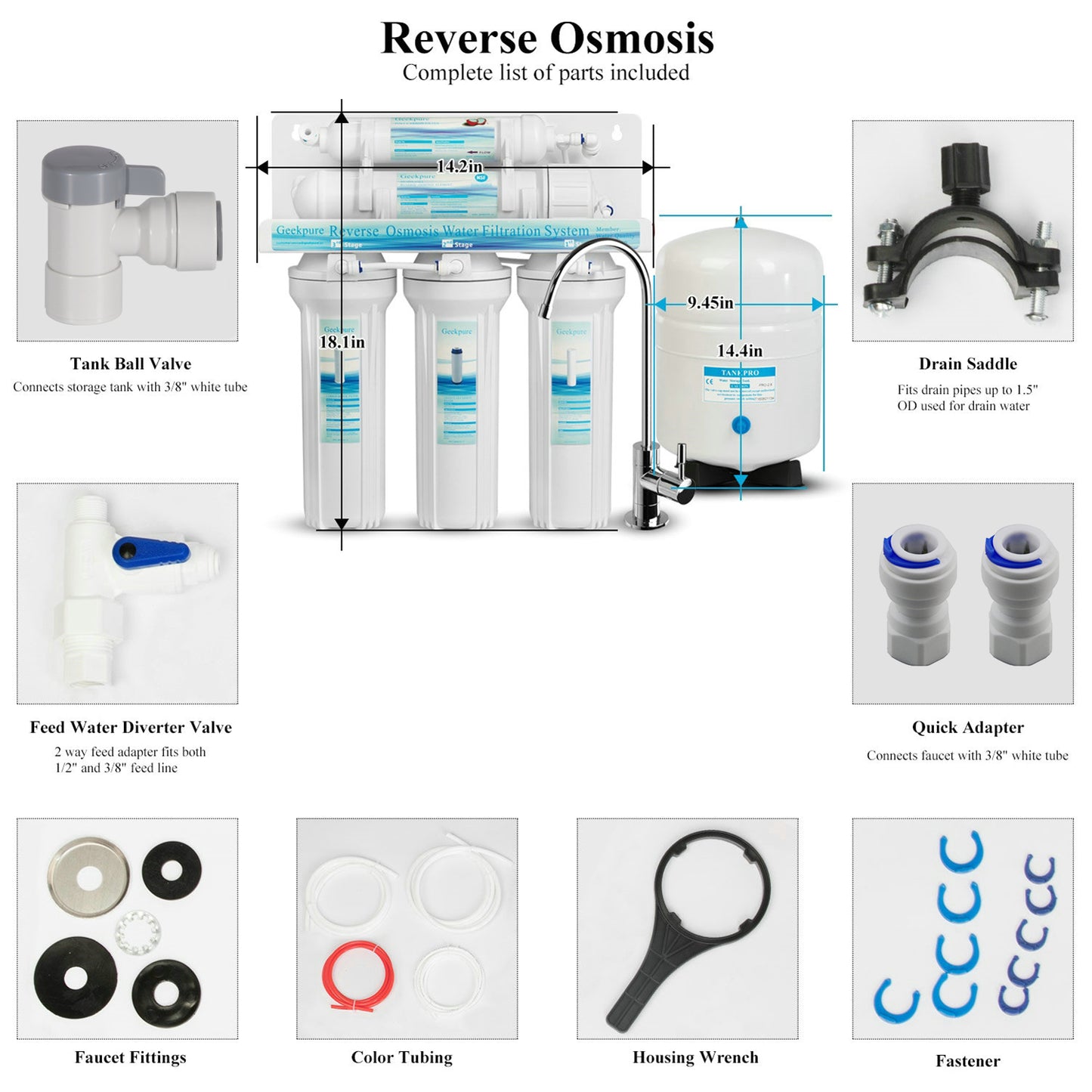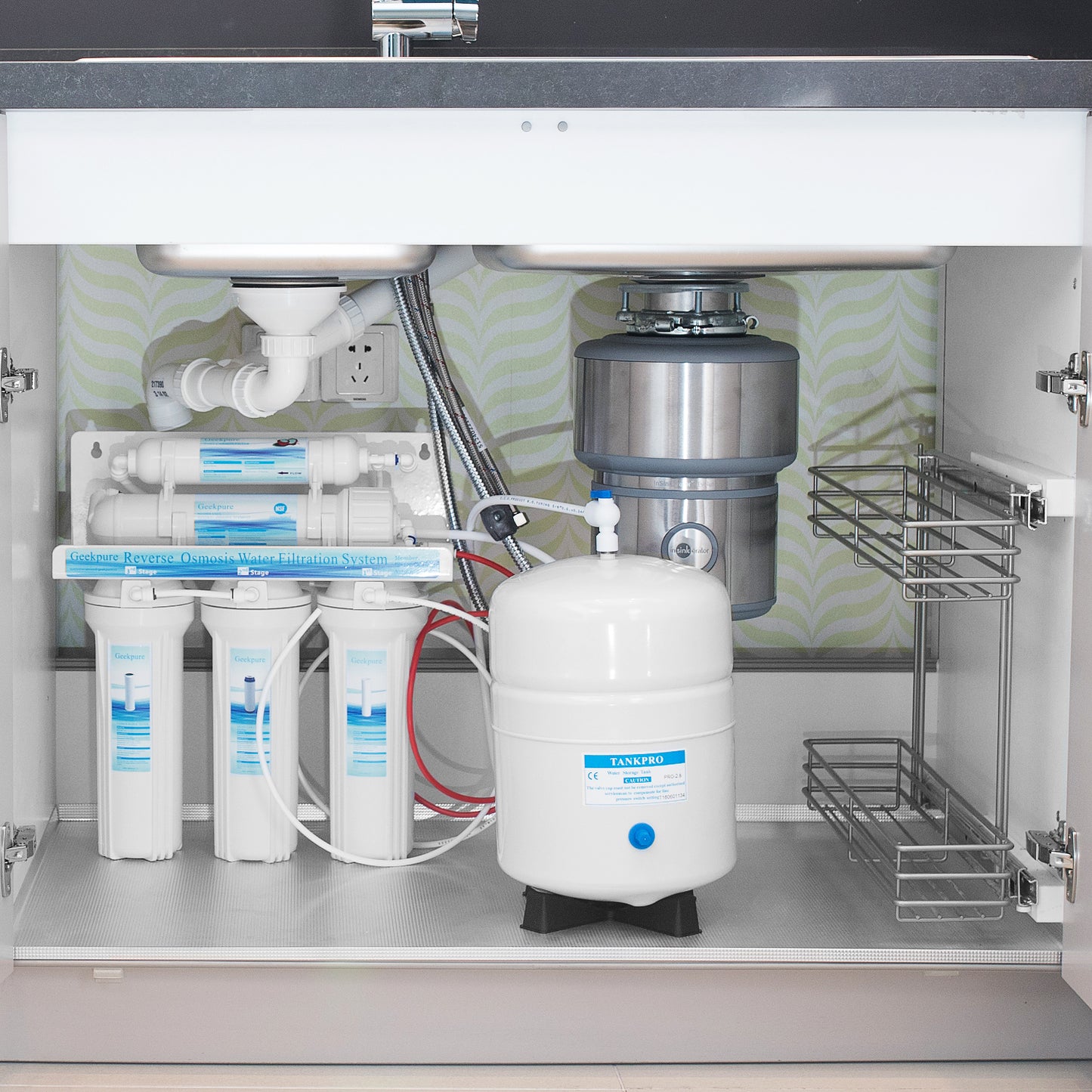 Tried to correct my review
First two searches did not bring up video, bad wording I guess. Found a video 3rd time made a big difference.
Install booklet
You need to have a link to an install video, your hard to read or see what tubes go where is crap. Or better yet include a DVD.
les contenants des filtres coulent tous les trois!
Merci beaucoup pour l'excellente qualité de l'eau!