Regular price
$137.99 USD
Regular price
$199.99 USD
Sale price
$137.99 USD
Unit price
per
Sale
Sold out
 Advantage
COMPLETE-2 Stage Whole House Water Filtration System w 1xPP Sediment,1xCarbon Block Filter ,with 2x 10 inch big clear housing,plastic wrench,metal bracket and screws.

PURE-Clear housing is convenient to indicate and track of your filter life .It is Installed at the main water supply and produce pure water for your entire home. Enjoy better water from every tap and every appliance in the whole house.

FUNCTION-PP Sediment is used to remove silt, sand, rust, dirt, and other undissolved particles, Carbon block filter is used to remove chlorine, taste & odors, very fine particulates. life time:6-12months.

HIGH QUALITY-Fits NSF standard,Large capacity housing for high flow applications

LIFE TIME:6-12 months or 100K gallons water.Flow rate : 5-15 GPM (Depend on Feed Water Pressure), 1 Year warranty.Note:this system will NOT reduce Total Dissolved Solids (TDS),but keeps healthy minerals in your water. If you are searching for a filter that removes TDS, Please refer Geekpure Reverse Osmosis systems
Product description
Specification:
Maximum Pressure: 90 psi (6.2 bar) ,It is test pressure, SUGGESTED WORK PRESSURE IS UNDER 50 PSI
Temperature:40-110°F/5-45°C ,
Shelf life: 2 Years.

More valuable information:
1. What is dimension of the housing and filters ?
ANSWER: It is standard sized 4.5" OD x 10" height filters and housings .
2. What is in the box?
ANSWER: 2 x 10 inch clear housing with pressure release , plastic wrench ,metal bracket and screws,1 x PP sediment filter, 1 x carbon block filter.
3.What is filters options?
ANSWER: 1.PP spun filter, Remove sand, dirt, sediment. life time:6 months.ASIN:B07797MT8K / B07JPZ183L.
2.Carbon block filter, Further remove chlorine, taste & odors, very fine particulates. life time:6 months. ASIN:B077971QT7 / B07JNC5GM4.
3.PP pleated filter, the material is same as PP sediment,Remove sand, dirt, sediment. life time:6 months. ASIN:B07TMCPJVD
4.PP string filters, the material is same as PP sediment,Remove sand, dirt, sediment. life time:6 months. ASIN:B07TJ6MXKM
PS.The Life Time of the Filter Cartridge Depends on Usage Amount and Feed Water Quality.

Note:

1. Please lubricate the o-ring with silicon grease and use wrench provided to prevent leakage. you may search "whole house water filter " on YouTube, there is some video about this housing, it is very helpful if it is the first time to install it.
2. Protect filter housing from freezing.
3. This filter housing has a maximum operating pressure rating of 90 psi, if you suspect that your water pressure will at any time exceed 80 psi, a pressure regulator MUST BE INSTALLED before the filter housing. this action will guard against the water pressure exceeding the maximum pressure rating.it is recommended that the pressure regulator be set at 50 psi or less.
4. The rubber o-ring provides the water tight seal between the cap and the sump. it is important that the o-ring be properly SEATED IN THE GROOVE of a water leak could occur.
Share
View full details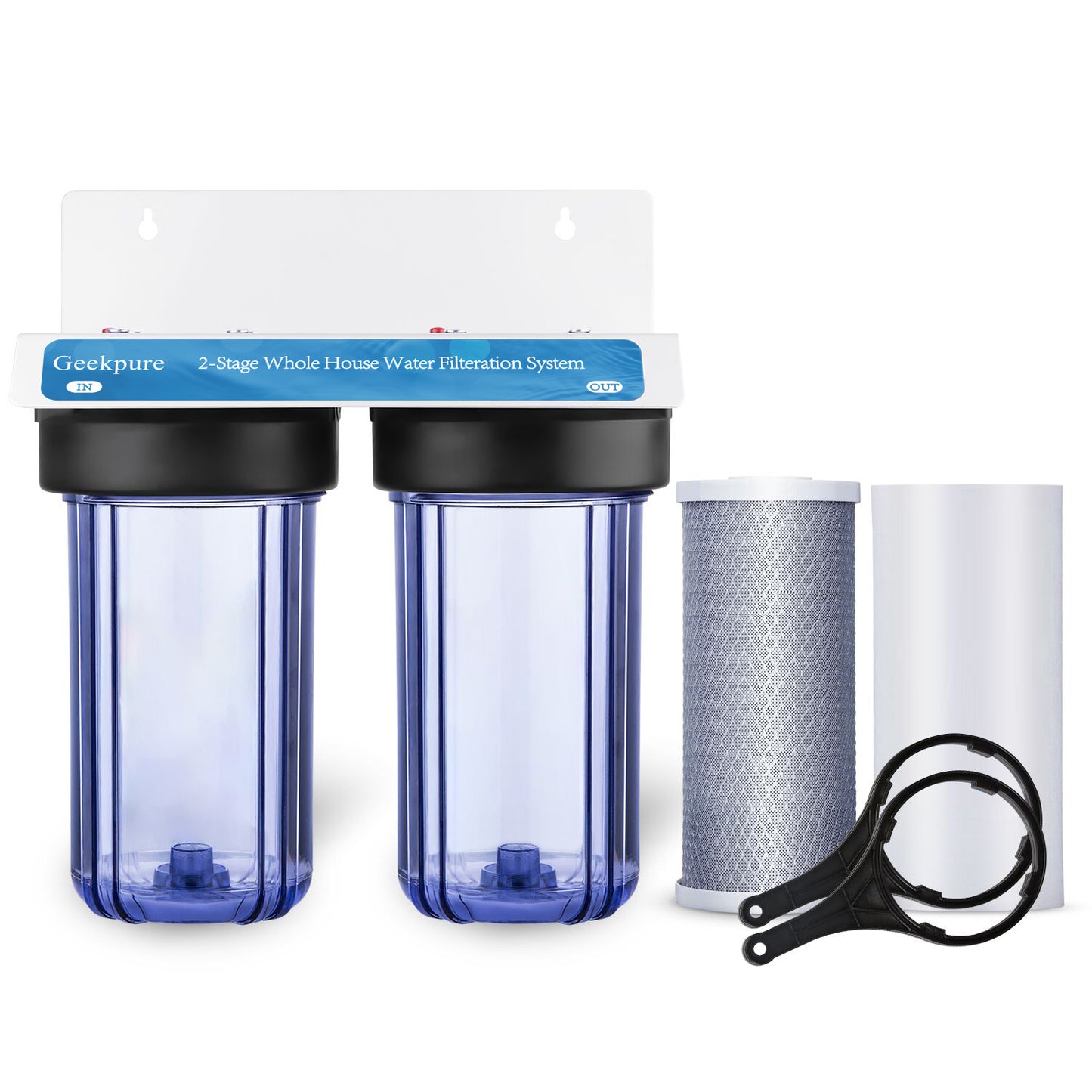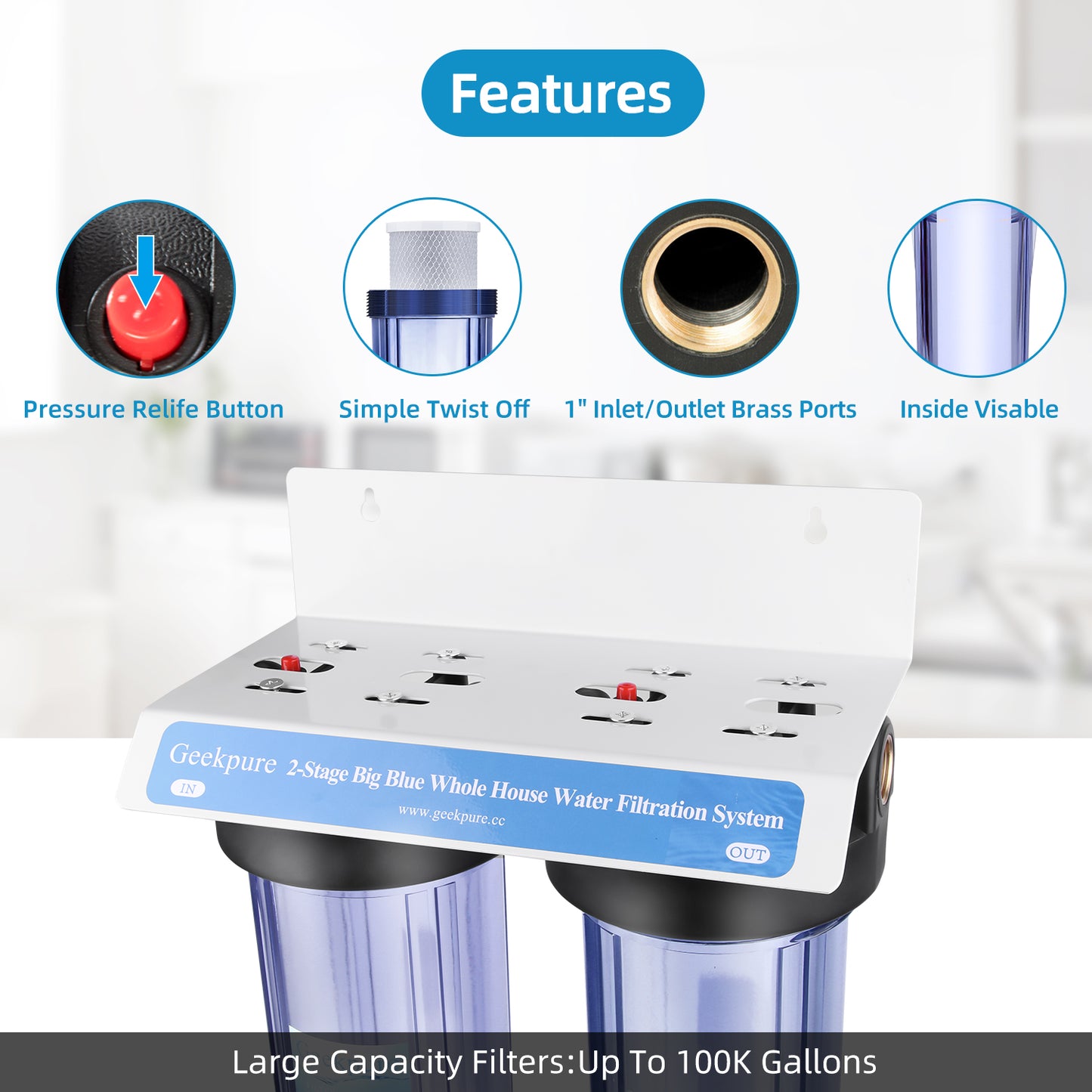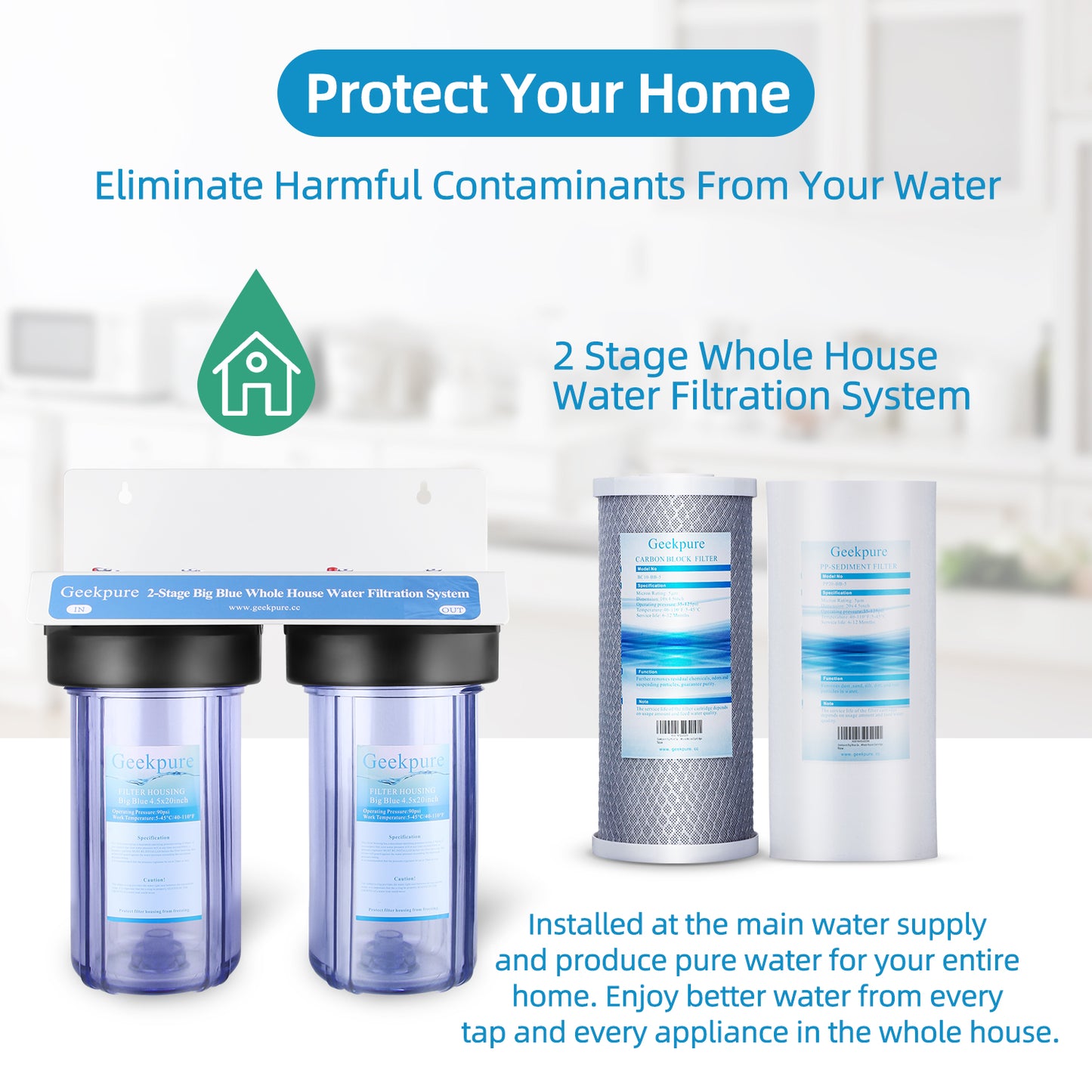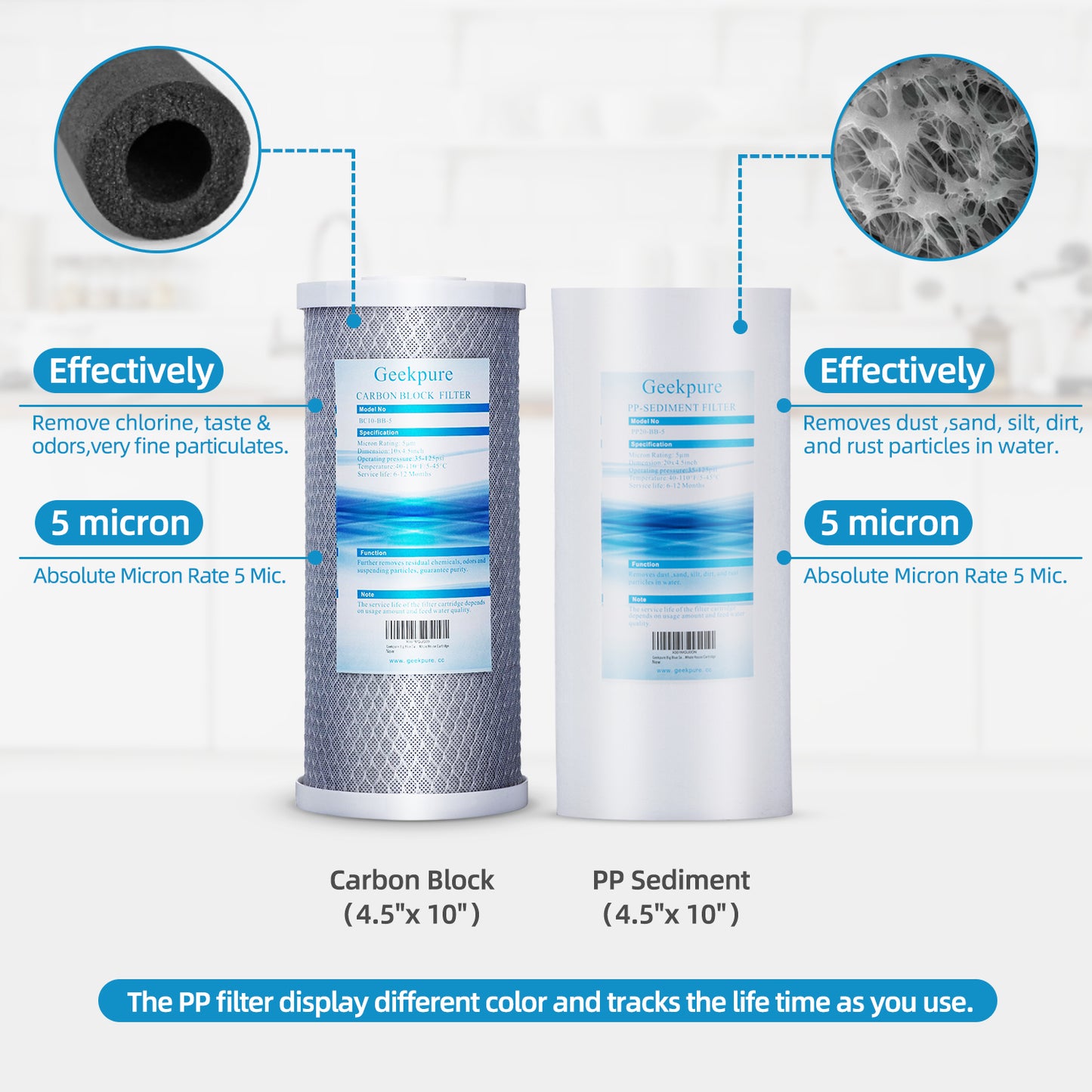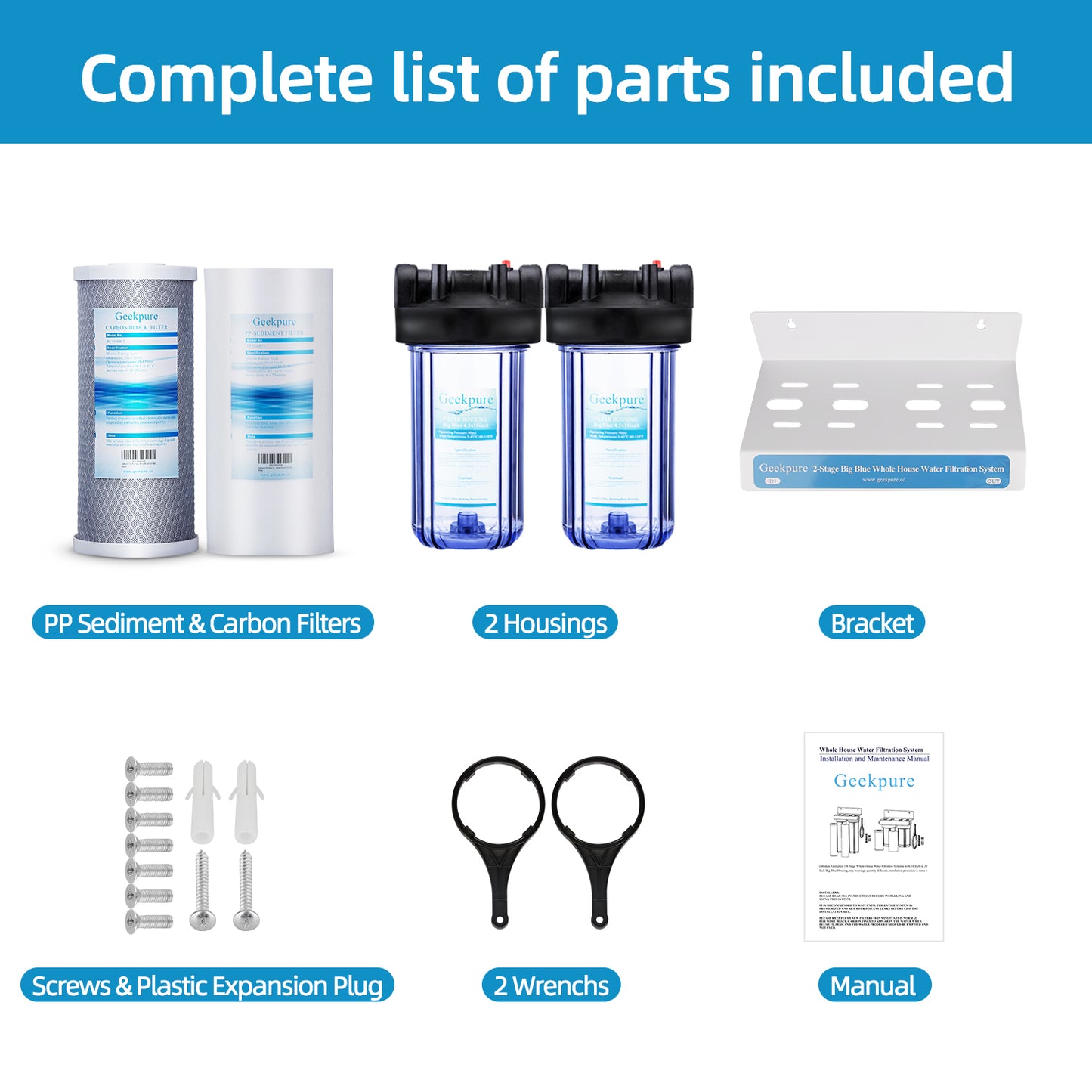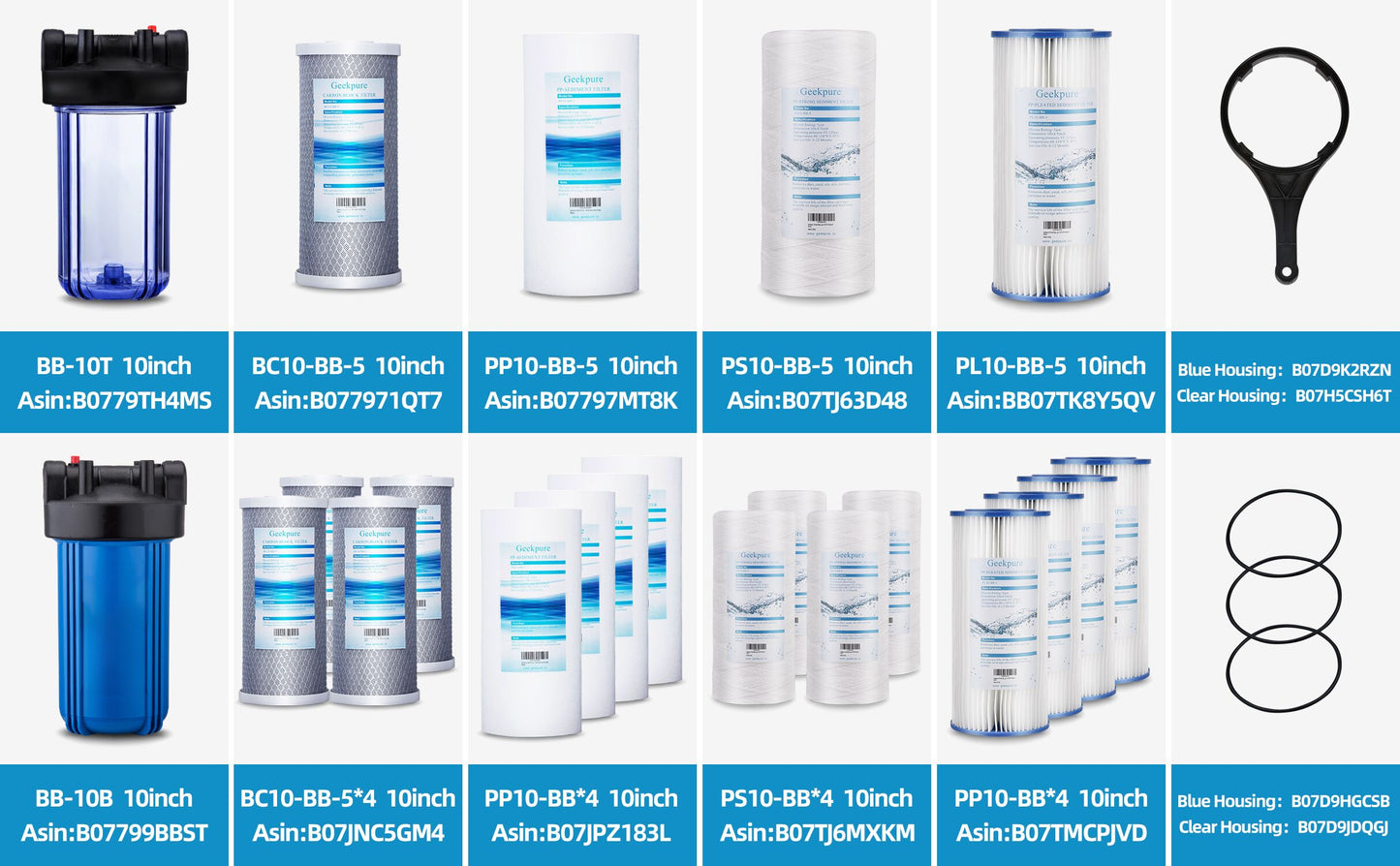 I love this product.
I bought this product and I am very pleased with my purchase. The water in my area has never been good. Many people complain about its taste. Since I added the filter, the water has tasted good. The water tastes almost sweet now. I love this product.
This unit is so worth it!
This unit is so worth it! I love the clean fresh water it provides! It is a little difficult to install, but so worth the time.
Customer service was great
Customer service was great and very friendly. I broke the cold water adapter valve when i was installing it. and had the new part in 2 days. Water taste great!!!
Everything went well
Installed and everything went well, I have it 3 stars because it was missing parts; therefore, I emailed customer service but they were sent it immediately.
Improved greatly
Installed this sytem a year ago. The water quality in our house has improved greatly. I'm going to get one for my parents and another for my in-laws.