Regular price
$99.99 USD
Sale price
$69.99 USD
Unit price
per
Sale
Sold out
About this item
4 Stage Reverse Osmosis water filtration system - Filter Precision 0.0001 micron, Removes up to 99% of contaminants ,e.g arsenic,lead,fluoride,mercury,cadmium,heavy metals and 1000+ contaminants,Special design for your aquariums use or residential use

Deionization Filter - Mixed bed DI filter is used to further remove TDS from membrane filtered water. It is a high capacity mixed bed ion exchange resin, guaranteed TDS value close 0 ppm

SMART SIZE - System Capacity 100 gallons per day @ 60 psi, it is around 260ml per minute. RO tube size: 1/4 inches. The ratio of pure water and waste water is 1:2. RO membrane is NSF certificated, to provide healthy and pure water. Quick Connections make it easy to remove and replace filters cartridges

System comes with high quality quick connect fittings, color coded tubes, and installation manual for an easy DIY experience, No need professional installation, you can understand everything about your system and install it with our clear, well-organized instructions in a couple of hours.1 year manufacturer warranty, no need registration

Tankless and without faucet, but add-on Drinking Water Kit with 2.8 Gallon Tank available, Amazon asin: B07D9JKSLJ or B07DBZN79S. This Unit is perfect for apartment, RV's, business travel, vacation, yacht, boat, mobil home or anywhere you need the pure water
Work Condition :
FEED WATER PRESSURE:40 - 100 PSI (If less 40 psi, we must to add booster pump ,or else, system can not work);
TEMPERATE:40-110°F/5-45°C;
PH:3.0 -11.0; MAX. TDS :1000 PPM;
TURBIDITY < 1.0 NTU;
MAX SDI <4.0;
HARDNESS < 5 GPG;
IRON <0.1; MANGANESE <0.05;
Shelf life: 3 Years
Q&A
Q: What is dimension of installed Geekpure RO-100G-4 system?
A: RO unit: Length 14.80 inch, Width 9.2 inch, Height 3.2 inch.
Q: What is 4 stage filter and function?
A: the 1st stage: PP spun filter, Remove sand, dirt, sediment. the 2nd stage: Ro membrane, Removes up to 99% of contaminants including arsenic, chlorine, lead, fluoride, mercury, cadmium, odor, heavy metals, and 1000+ contaminants. the 3rd stage: Coconut carbon filter, Remove chlorine, taste & odors, very fine particulates. the 4th stage: Deionization Filter - Mixed bed DI filter is used to further remove TDS from membrane filtered water. It is a high capacity mixed bed ion exchange resin, guaranteed TDS value close 0 ppm.
Q: Where can I buy replace filters?
A: Please search product ASIN B07KHWKVCS & B07G42FGJL on Amazon. There is not storage tank and faucet in the box. Because it is special design for aquarium use. If you need these extra parts, please search product ASIN B07DBZN79S or B07D9JKSLJ for tank, B078HTMHXV for faucet on Amazon and buy it separately.
Q: What is in the box?
A: 1 RO unit, diverter valve, 1 piece wrench, RO tubes, clips, drain clamp, teflon tape, and so on.
Note:
1.Please keep flush filters 30 minutes before it is used to feed for your aquarium.
2. It Is Normal for Some Black Carbon Fines to Appear When You Flush Carbon Filter. There is not tank and faucet, and high/low pressure switches,the system can not work on and off automatically. If you want to add tank, faucet, switches, please contact with seller.
Share
View full details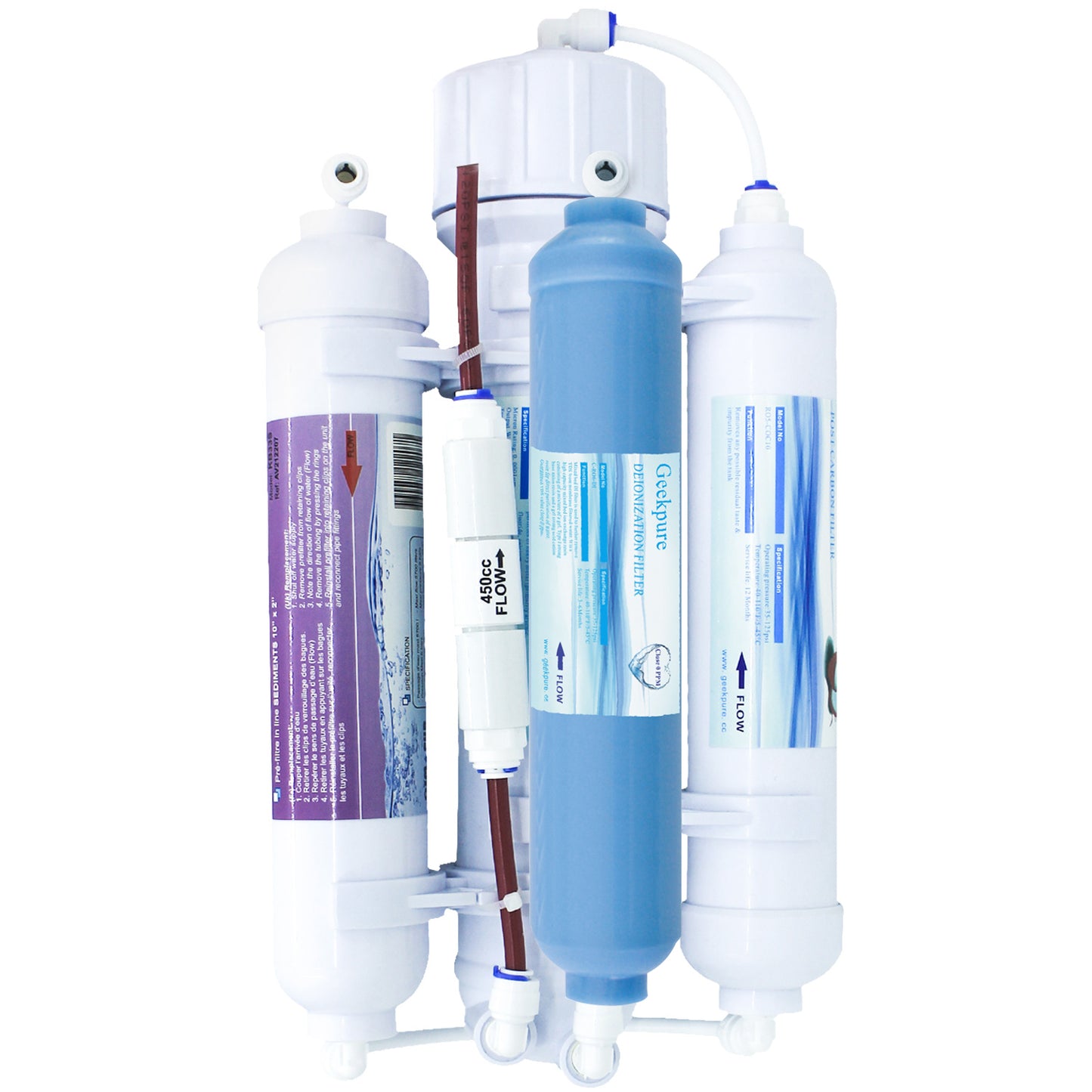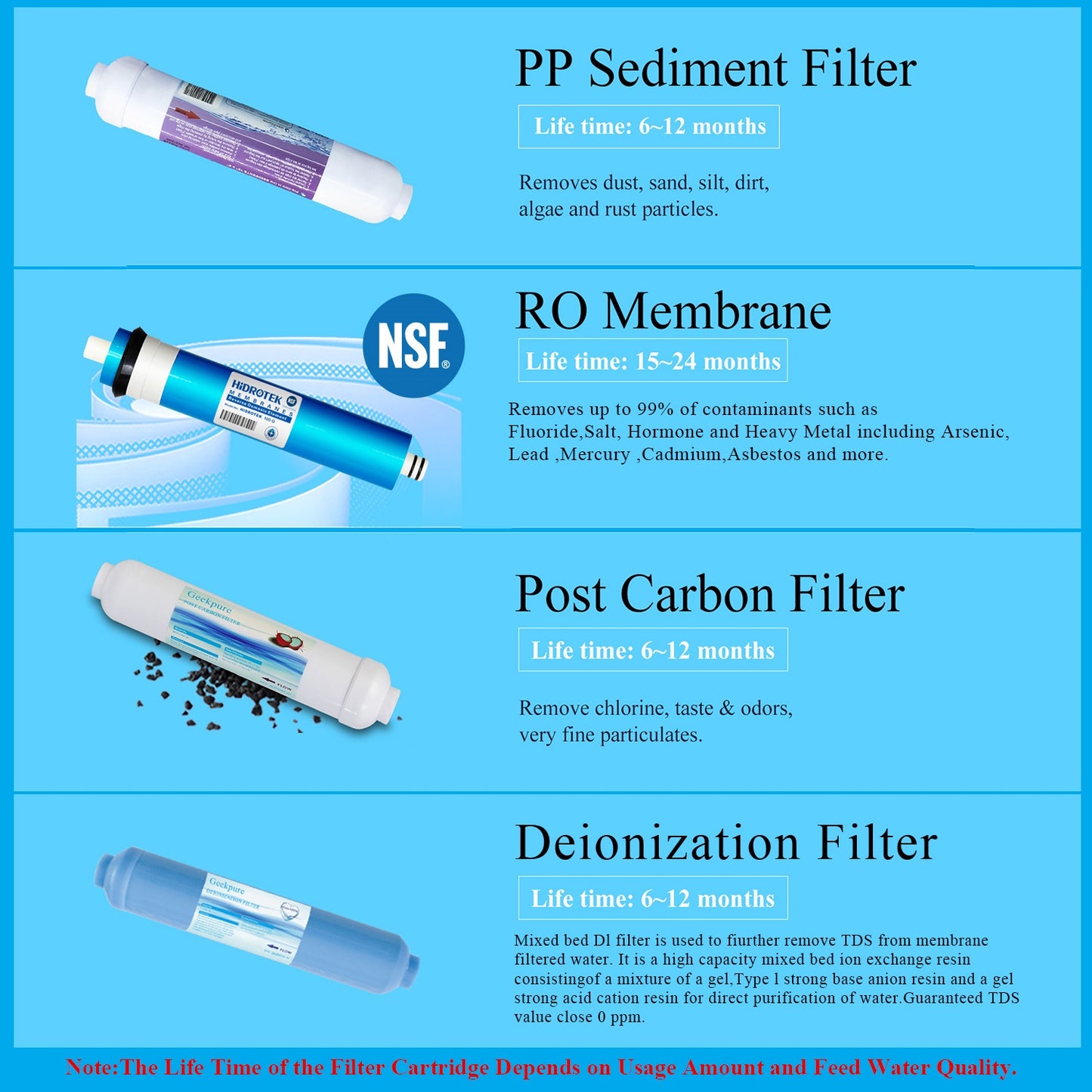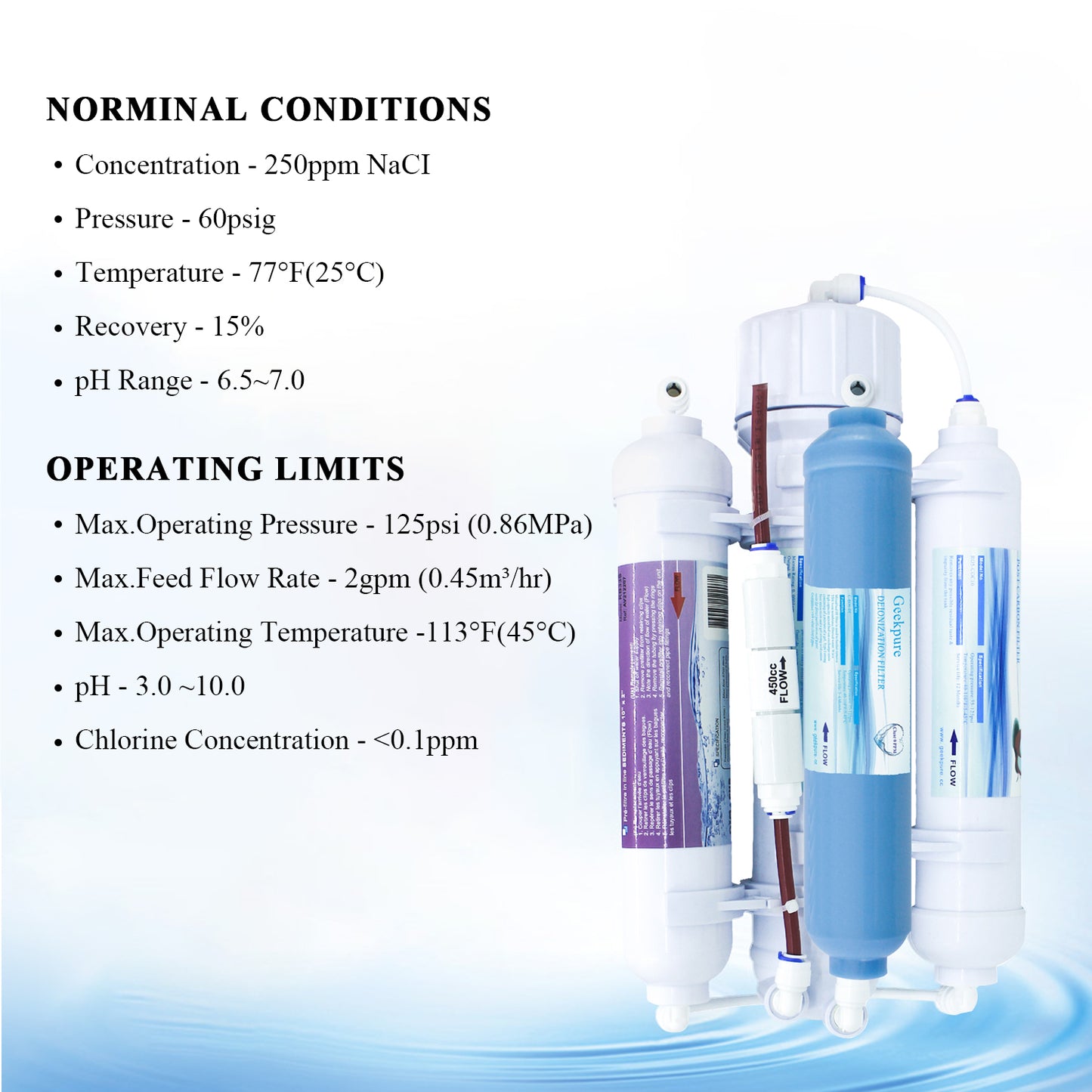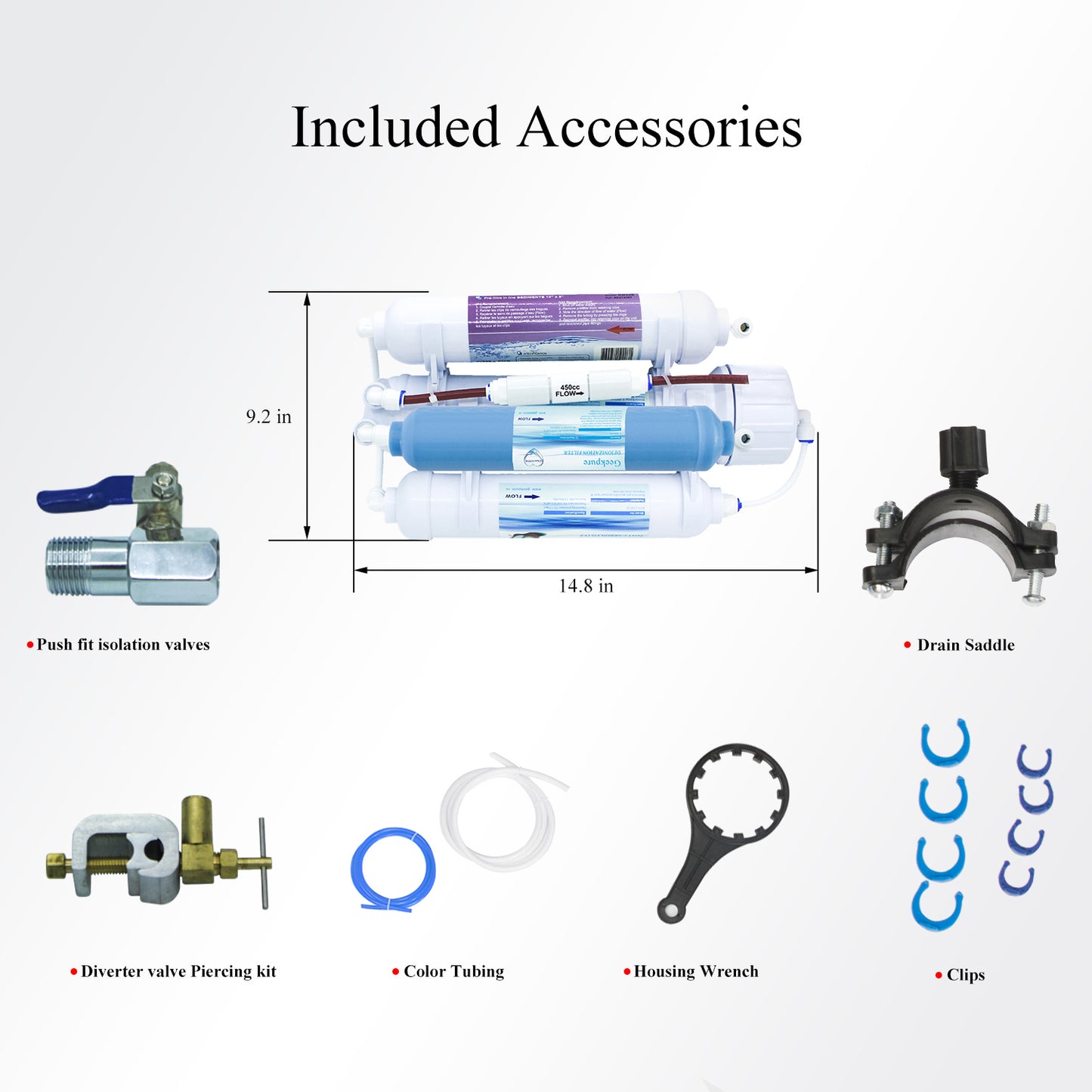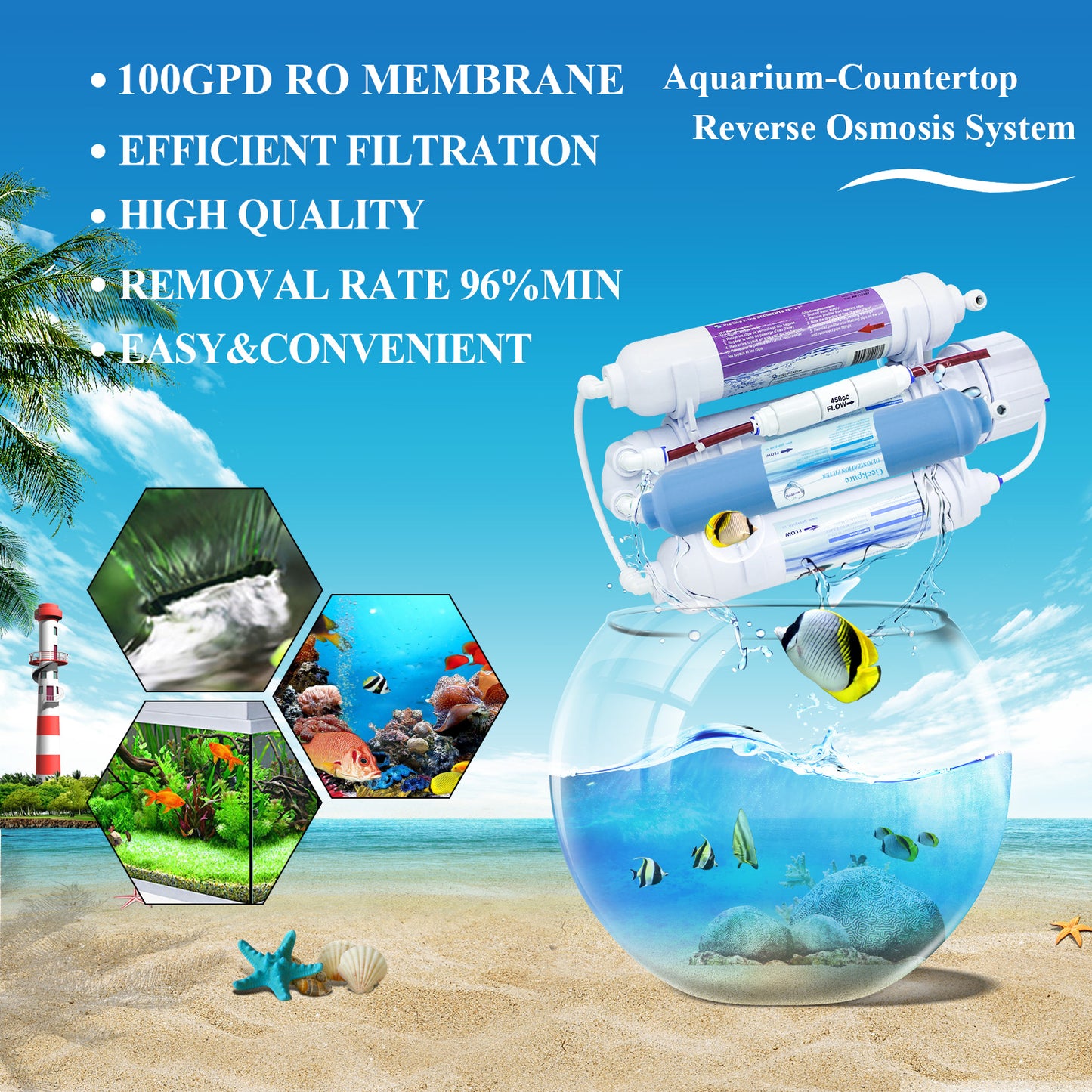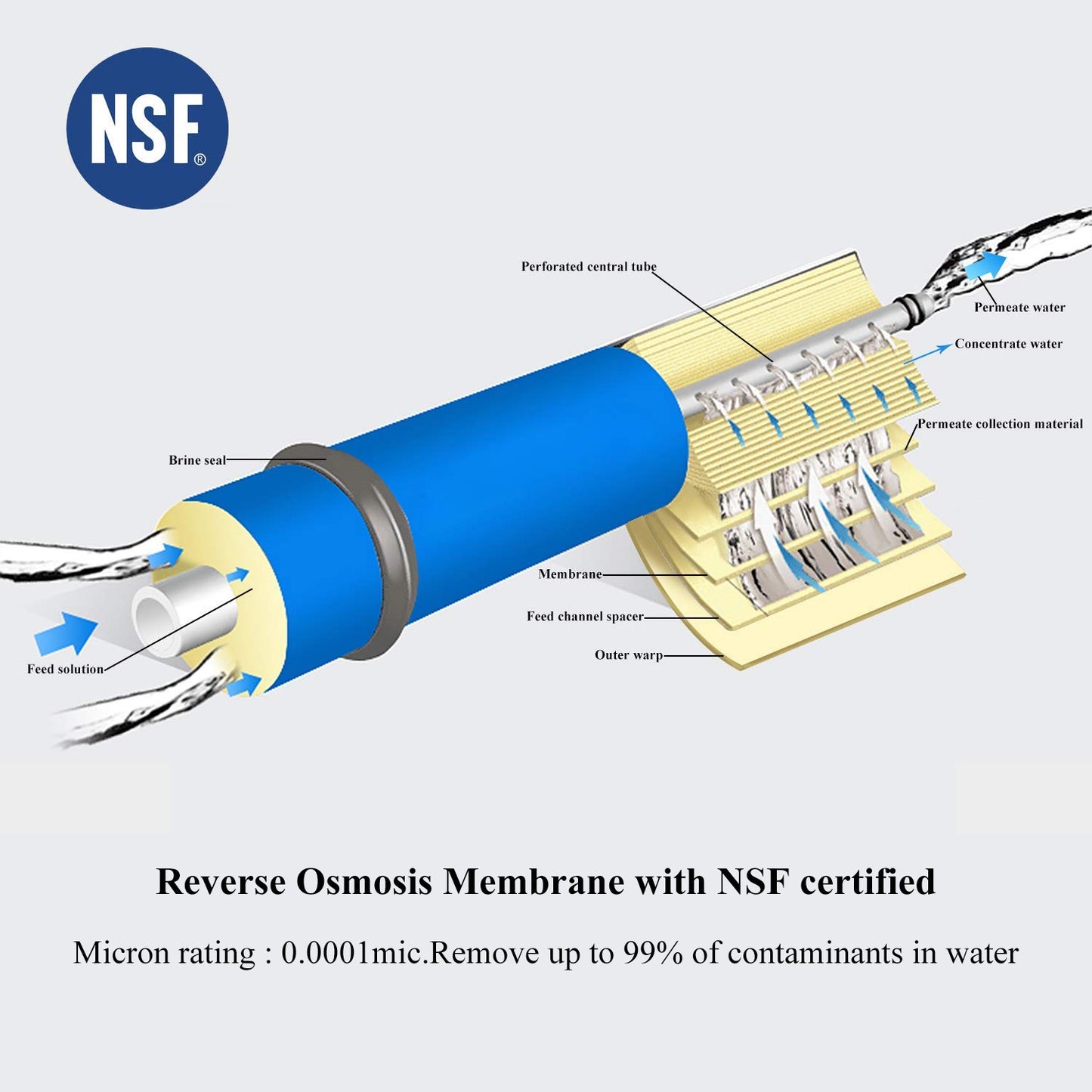 questions about installing
i was under the impression that this was for attachment to the sink faucet and then quick de-attachment. would you suggest a new system or is there a way to do so ?