Regular price
$129.99 USD
Sale price
$94.99 USD
Unit price
per
Sale
Sold out
 Advantage
COMPLETE-10 inch big clear housing,1"NPT inlet/outlet,with pressure release button for high flow,plastic wrench and metal bracket.Housing only, filter cartridges are sold separately.The clear housing allows you to see when you need to change filters and everything else works as it should.Pack of 2.

Clear housing allows you to see when you need to change filters and everything else works as it should

STANDARD-Fits all standard sized 4-1/2 inch diameter industry 10 inch whole house cartridges,Clear housing, easy to monitor the product water quality

HIGH QUALITY-Fits NSF standard,Large capacity housing for high flow applications

WARRANTY-1 year limited warranty

It is Installed at the main water supply and produce pure water for your entire home. Enjoy better water from every tap and every appliance in the whole house



Product description
Specification:

Maximum Pressure: 90 psi (6.2 bar) ,It is test pressure, SUGGESTED WORK PRESSURE IS UNDER 50 PSI
Temperature:40-110°F/5-45°C ,
Shelf life: 5 Years


More valuable information:
✪What is dimension of the housing?
It is 7"X7"X14" .
✪What is in the box?
2 x 10inch big clear housing with pressure release and 1inch NPT , 2 x plastic wrench ,2 x metal bracket.
✪What is filters options?
1.PP spun filter, Remove sand, dirt, sediment. life time:6 months.ASIN:B07797MT8K / B07JPZ183L.
2.Carbon block filter, Further remove chlorine, taste & odors, very fine particulates. life time:6 months. ASIN:B077971QT7 / B07JNC5GM4.
3.PP pleated filter, the material is same as PP sediment,Remove sand, dirt, sediment. life time:6 months. ASIN:B07TMCPJVD
4.PP string filters, the material is same as PP sediment,Remove sand, dirt, sediment. life time:6 months. (ASIN:B07TJ6MXKM
PS.The Life Time of the Filter Cartridge Depends on Usage Amount and Feed Water Quality. 

Note:
Please lubricate the o-ring with silicon grease and use wrench provided to prevent leakage.
2. Protect filter housing from freezing. 
3. This filter housing has a maximum operating pressure rating of 90 psi, if you suspect that your water pressure will at any time exceed 80 psi, a pressure regulator MUST BE INSTALLED before the filter housing. this action will guard against the water pressure exceeding the maximum pressure rating.it is recommended that the pressure regulator be set at 50 psi or less.
4.The rubber o-ring provides the water tight seal between the cap and the sump. it is important that the o-ring be properly SEATED IN THE GROOVE of a water leak could occur
Share
View full details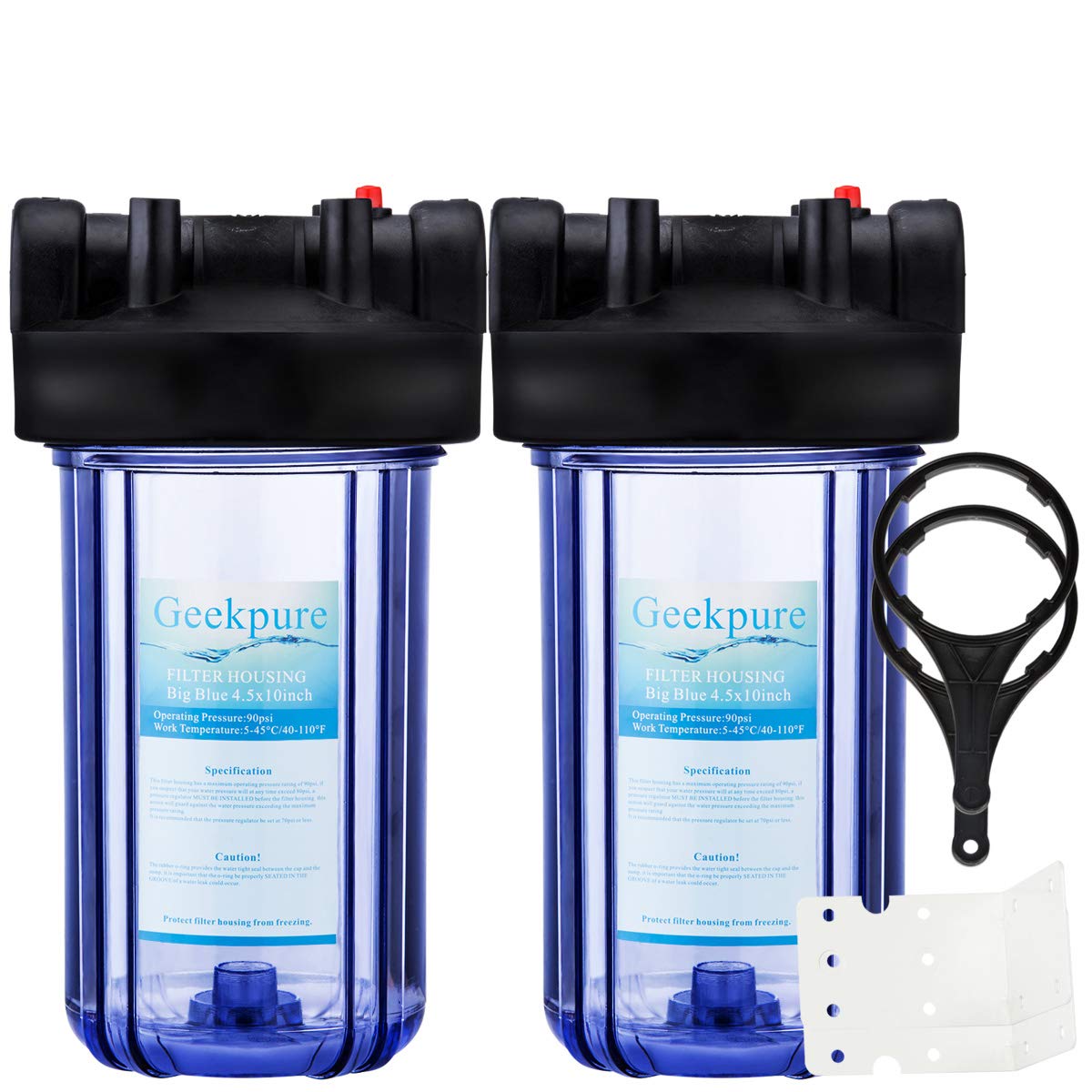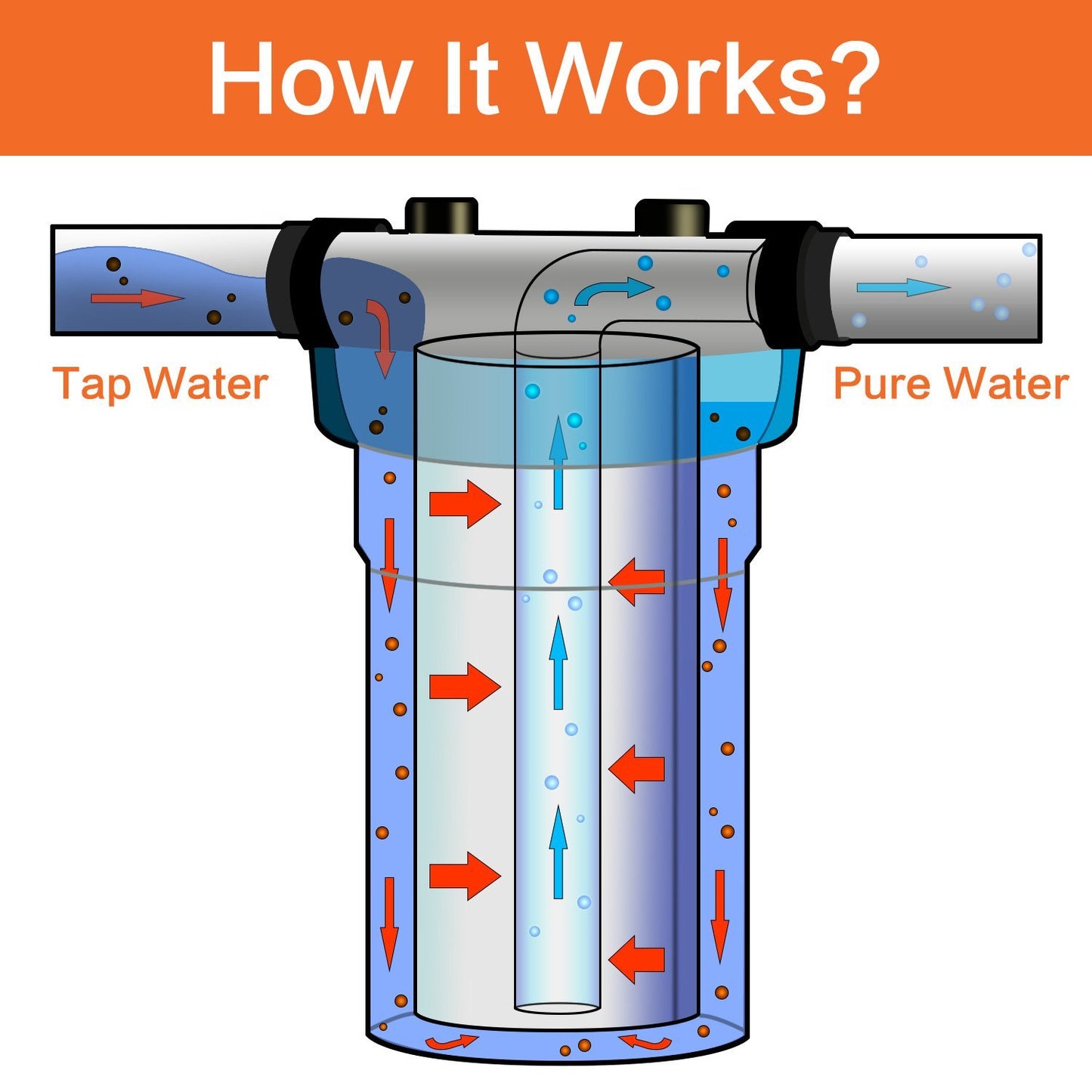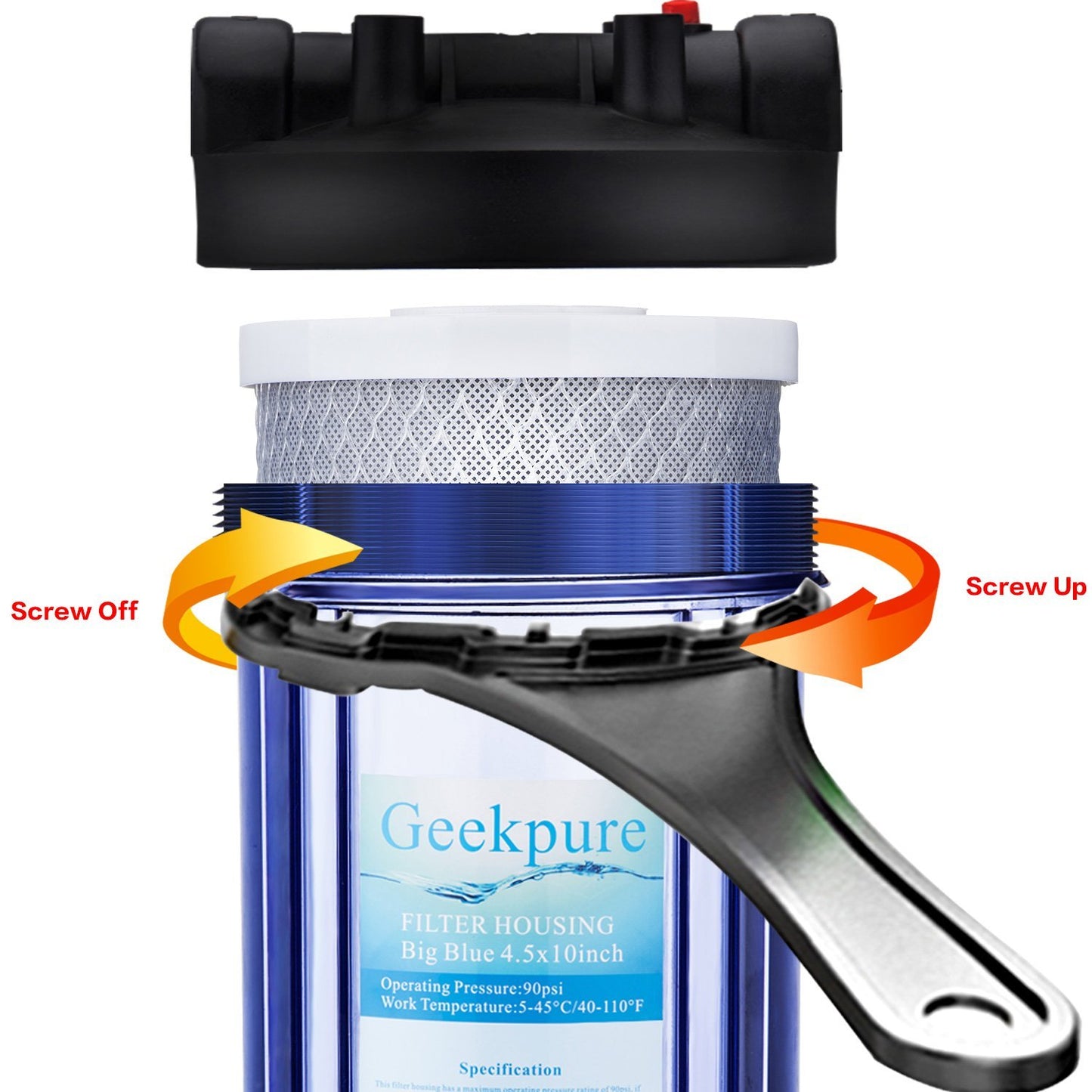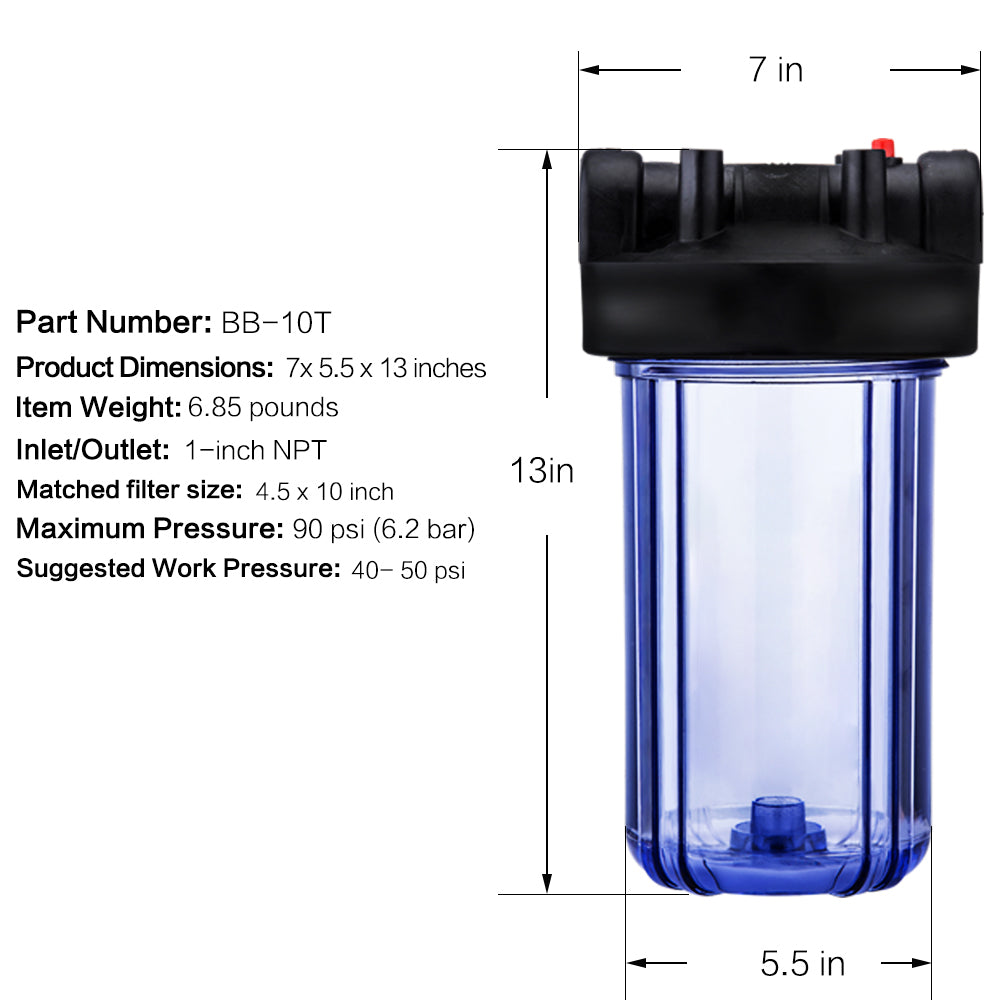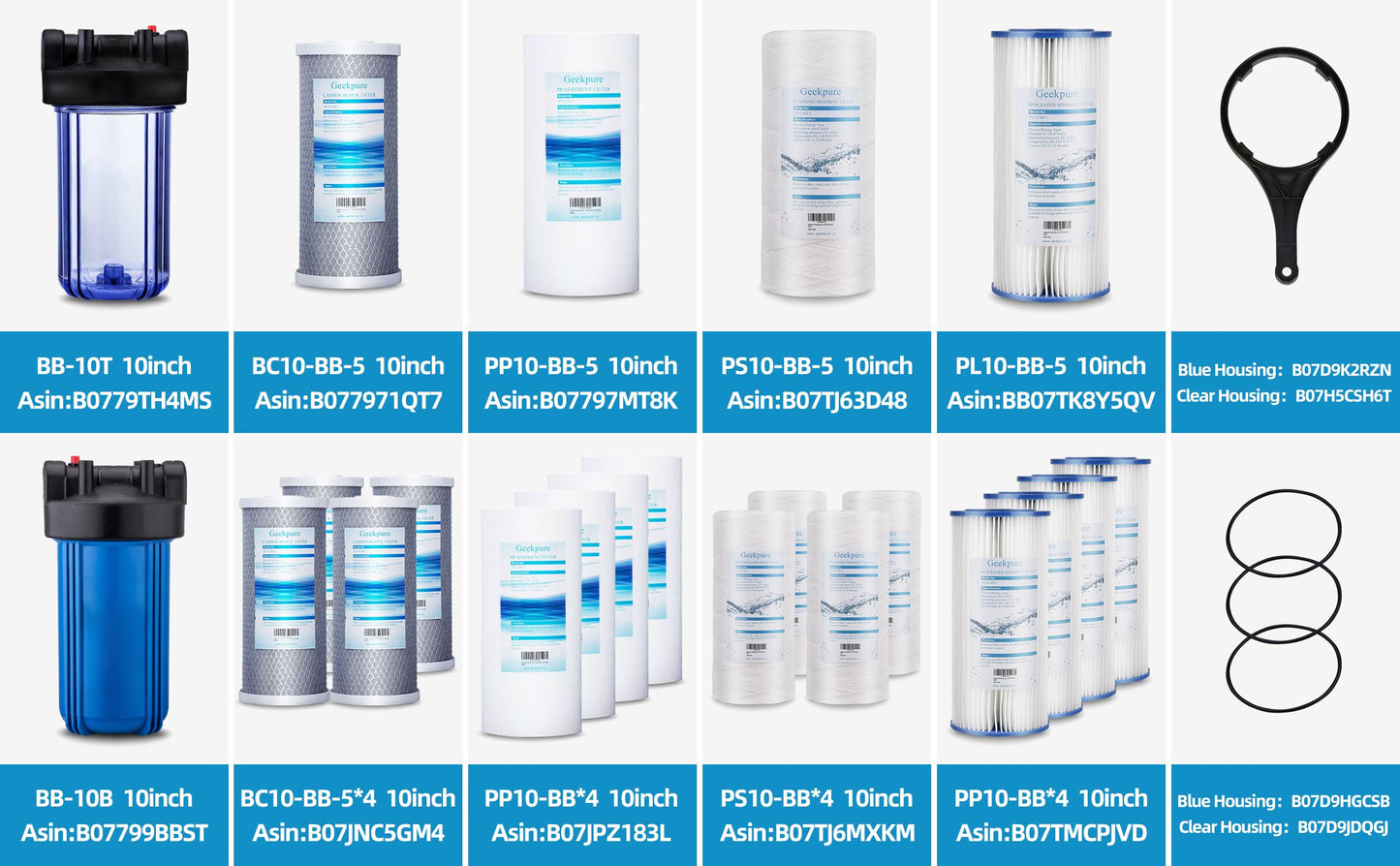 very good
I was very pleased with this filter housing, it replaces one I already had with a shut off valve. My advice: install your own shutoff valve before and after with a third valve on a T after the filter housing to act as your relief valve so you won't ever have trouble with changing the filter. The old one I had with the shutoff and pressure relief valve, broken after only a few turns! This one is solidly built and comes with a special wrench to remove the filter housing and I like the clear plastic so you can see what condition the fliter is in.!
Great filter
Super easy to install and even though they changed the design since 3 years ago, it takes the filters that i still have from the original one that cracked.
very easy to install.
finally I can see when filter is dirty instead of guessing. old housing was solid blue. now I just open crawl space door, shine a light on clear housing and can see if I need to change filter or not. great product-priced rite-super fast delivery.
Secure your home water supply
We use this filter to help purify our water supply. It can remove down to 5 microns depending on the filter you choose. However, I initially installed it to protect my home appliances from a well head failure and the subsequent flow of sand that will inundate and ruin your home plumbing and destroy all your appliances, sinks and toilets.
new clear tank different thread size than older model
Not compatible with older model clear cartridge tanks. Otherwise looks great. Hope filters fit.