Regular price
$69.99 USD
Sale price
$54.99 USD
Unit price
per
Sale
Sold out
Advantage:
BPA Free,Tritan material 24 oz / 700 ml blending jar, dishwasher safe (blender base is excluded).High quality pure copper motor,long service life design.

1000 Watts ,6 Leaves high speed and 1.5mm thickness stainless steel blade,Strong enough to crush frozen fruits,ice,nuts,seeds,carrot in seconds and easily.Great for making smoothies, shakes and salad dressings, breadcrumbs, nut shreds.

IC controlled electronic operation panel provide one-touch intelligence.Simple one touch operation for fast, easy blending and completely hands free.

Blend and drink from the same bottle,with extra travel lid.the sports lid makes it easy to take on the road to the office, gym or class, in the car or in your bag (cup size :4.13"x 7.2").

Made by Professional manufacturer who had audit approved by Walmart,Costco,Sears,Jet and SGS. This blender is UL certified.We provide ONE YEAR Hassle-free Warranty for La Reveuse products. For any questions or quality problem, please feel free to contact us via Amazon message for replacement. We will reply you within 8 hours at soonest possible. HOUSEHOLD USE ONLY.
Product description:
Specifications:
-Voltage:120V 60Hz
-Power rating: 1000 watts ,-Motor speed:24000 RPM
-Cup size:24 ounce (700ml)
-Materials: stainless steel blade and BPA free food-grade Tritan bottle and lid
More valuable information:
Q: Can this blender crush ice? A: Absolutely,Yes, It is 1000W and powerful.It blend frozen fruits,ice, nuts,seeds,carrot,vegetables and fruit in seconds and easily.
Q: Is it compact and light weight enough to travel with? A: Yes,cup dimension just 4.13"x7.2". the complete blender is 6"x15". and 6.5lb. you may packed it in your gym bag taking it to office or anywhere. The blender is quite compact and the bottle with Sip&Seal lid.
Q: The blender is dishwasher safe? A: Yes,The personal blender is dishwasher safe. but do not put the blender base in .And it is also very easy to clean the blade and the BPA Free Tritan cup by flushing with water .
Q: Is it real HANDS FREE? A: The bottle can be locked into place and operate hands free. Or you can push down to operate if bottle is not locked into place.
Q: What is in the box? A: 1 x Blender base with high quality pure copper motor. 1 x 24 oz. BPA free cup. 1 x Solid lid. 1 x Sip&Seal Travel lid. 1 x Blade attachment. 1 x User guide.
Note:
1.Please read all instruction and safety warnings before operating the blend.This is not a toy or weapon. Keep out of reach of children.
2.All parts EXCEPT blender base are dishwasher safe. To clean blender base, UNPLUG and wipe with damp cloth and dry.
3.Sharp blades. Handle with care. Avoid contact with moving parts.DO NOT immerse blender base in water or any other liquids.
Share
View full details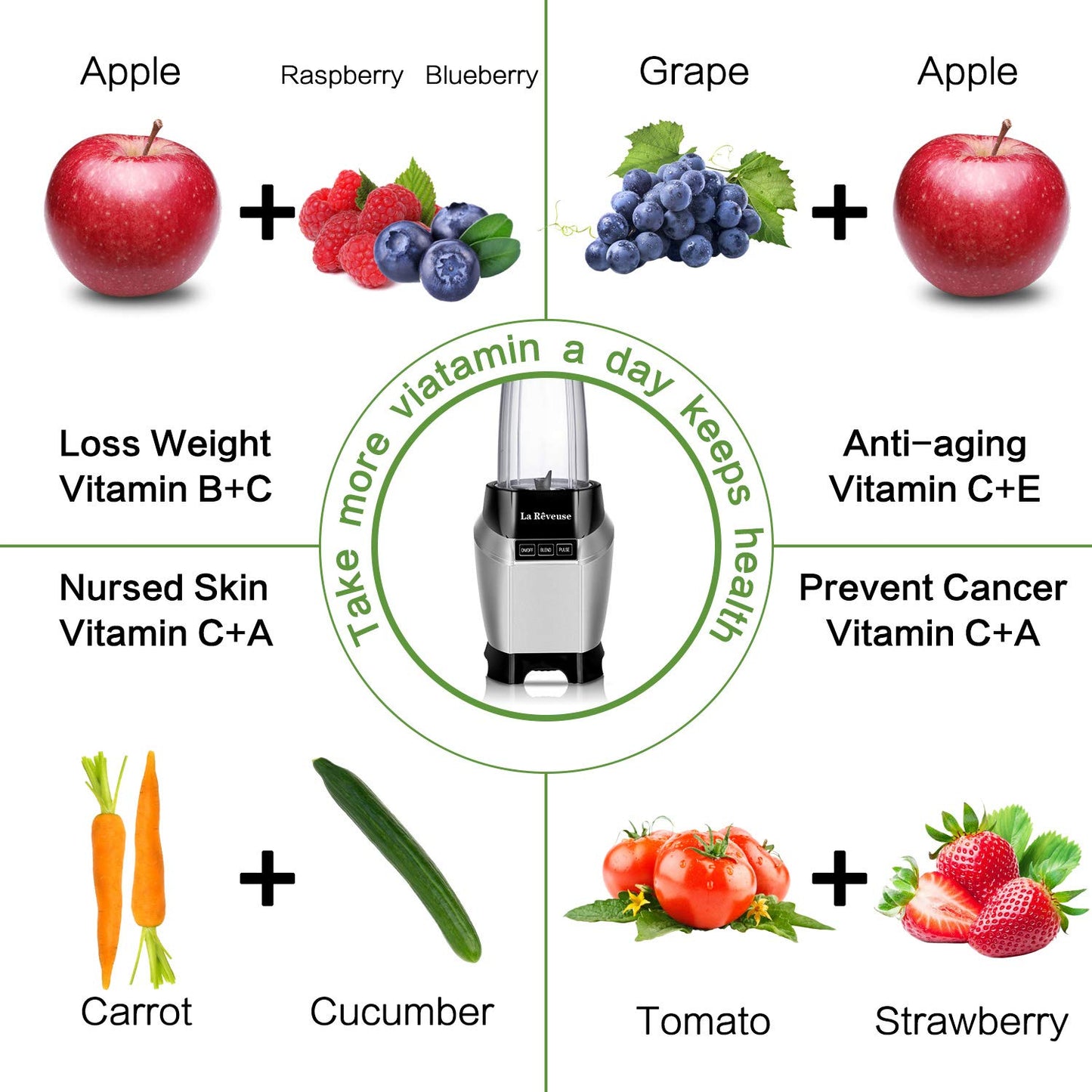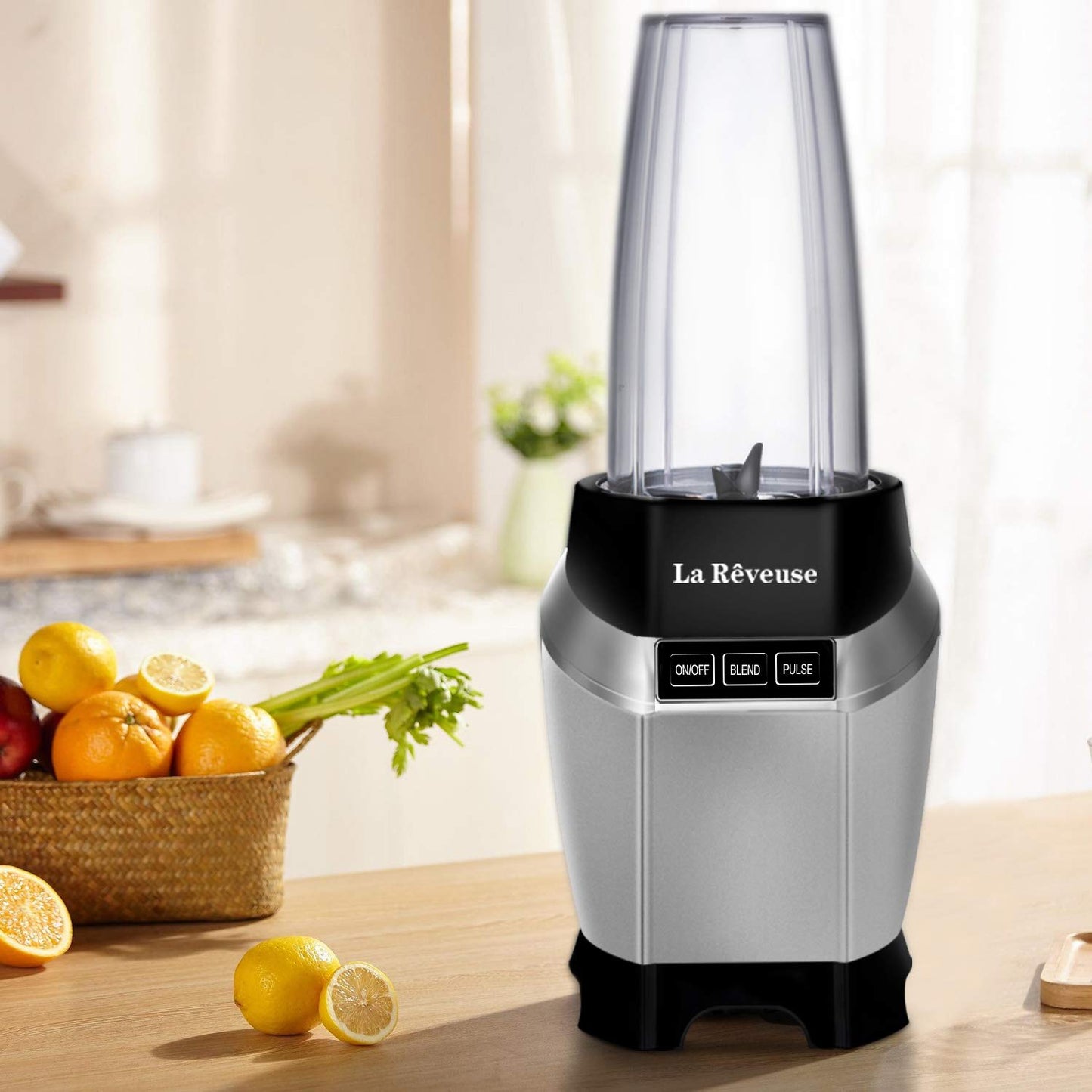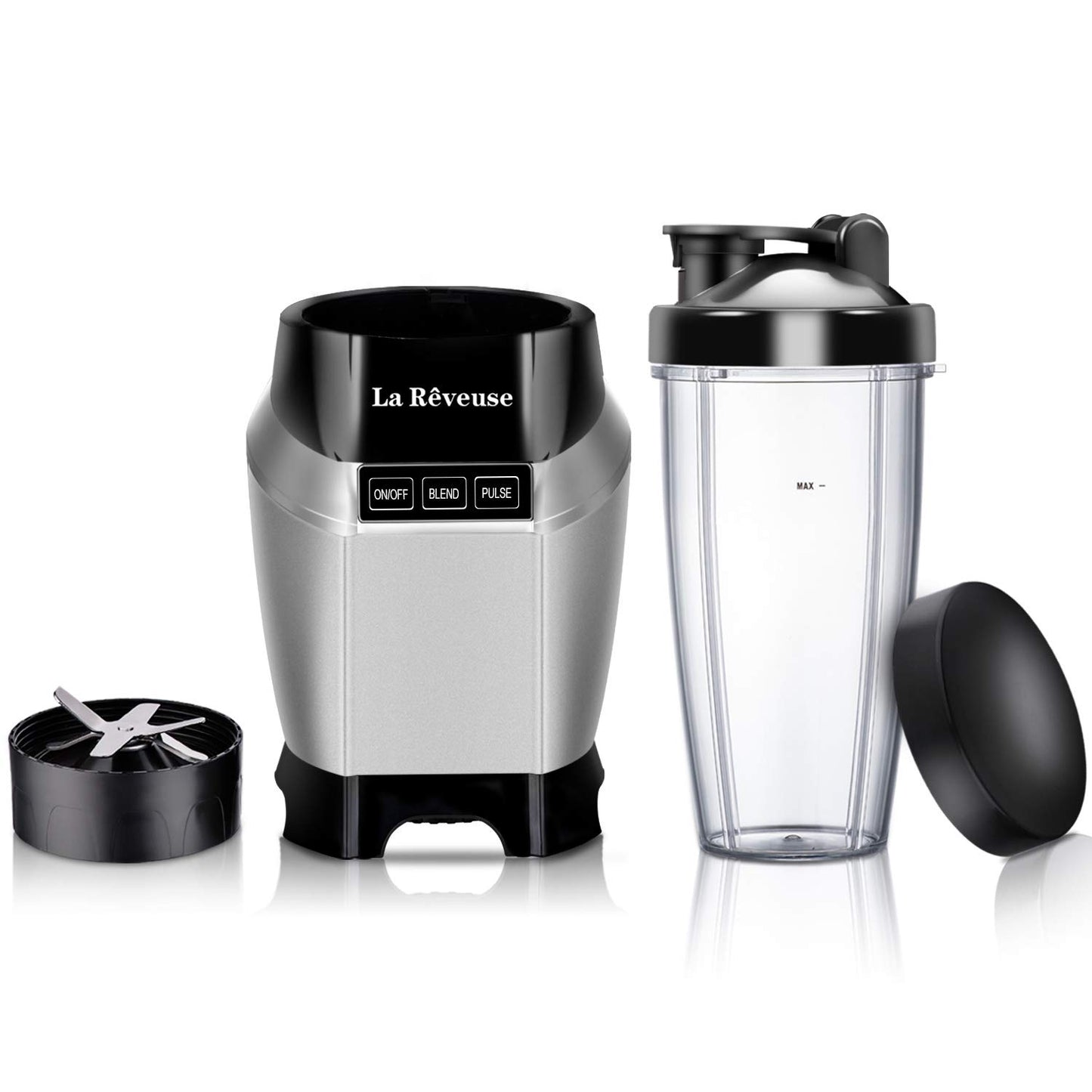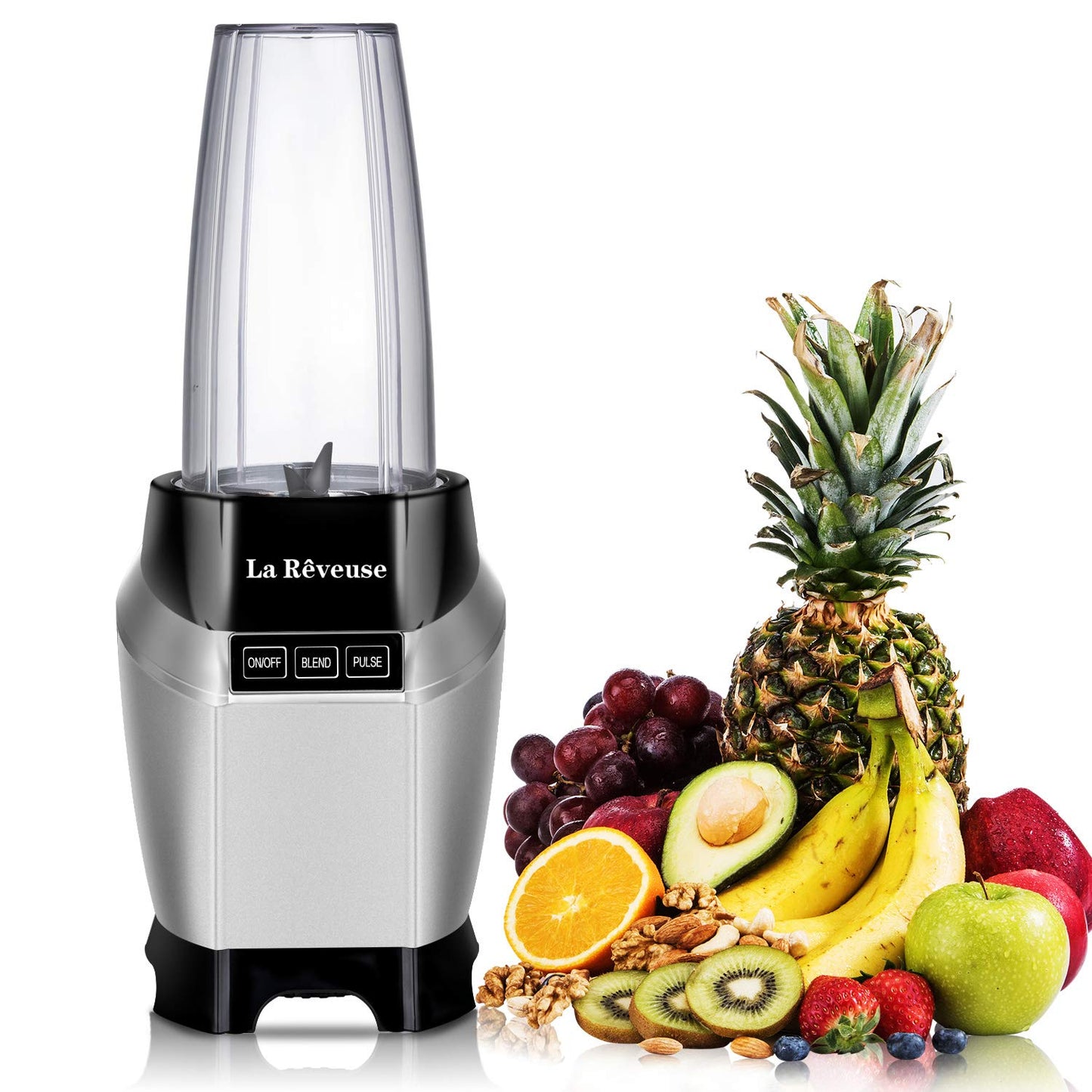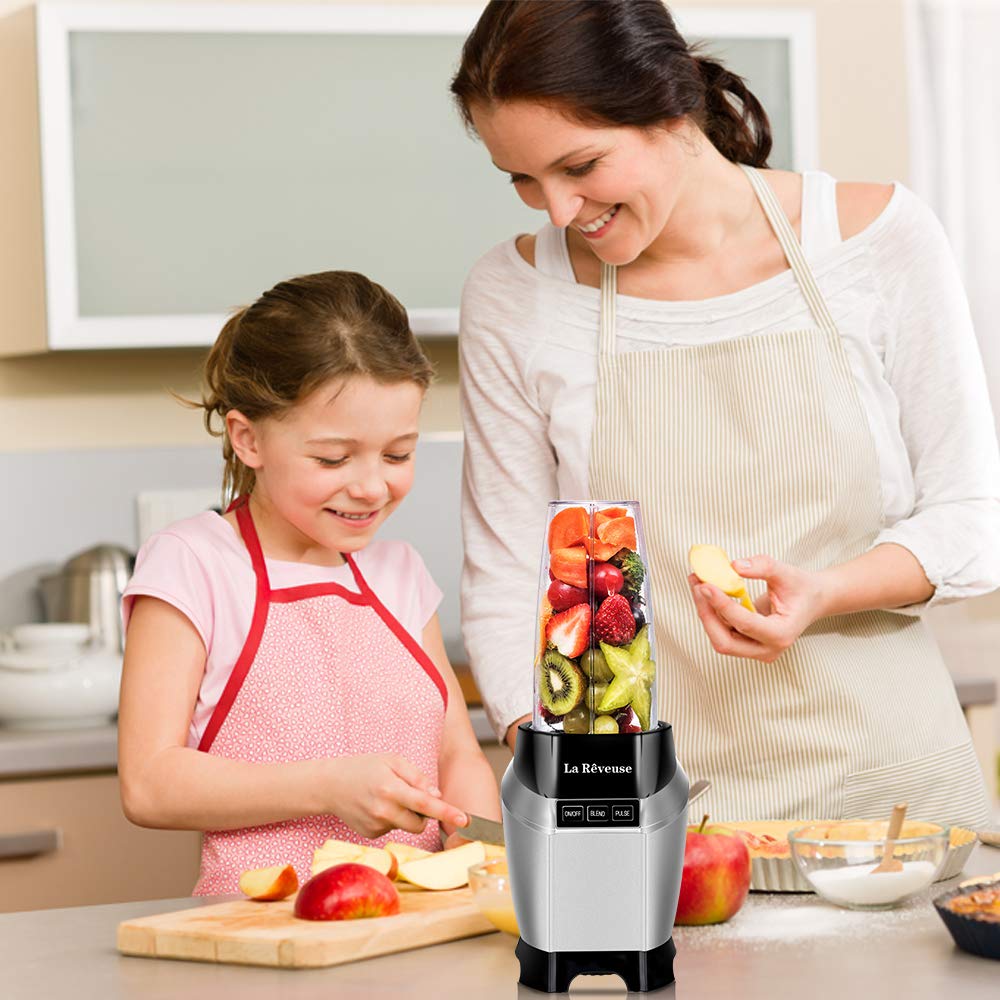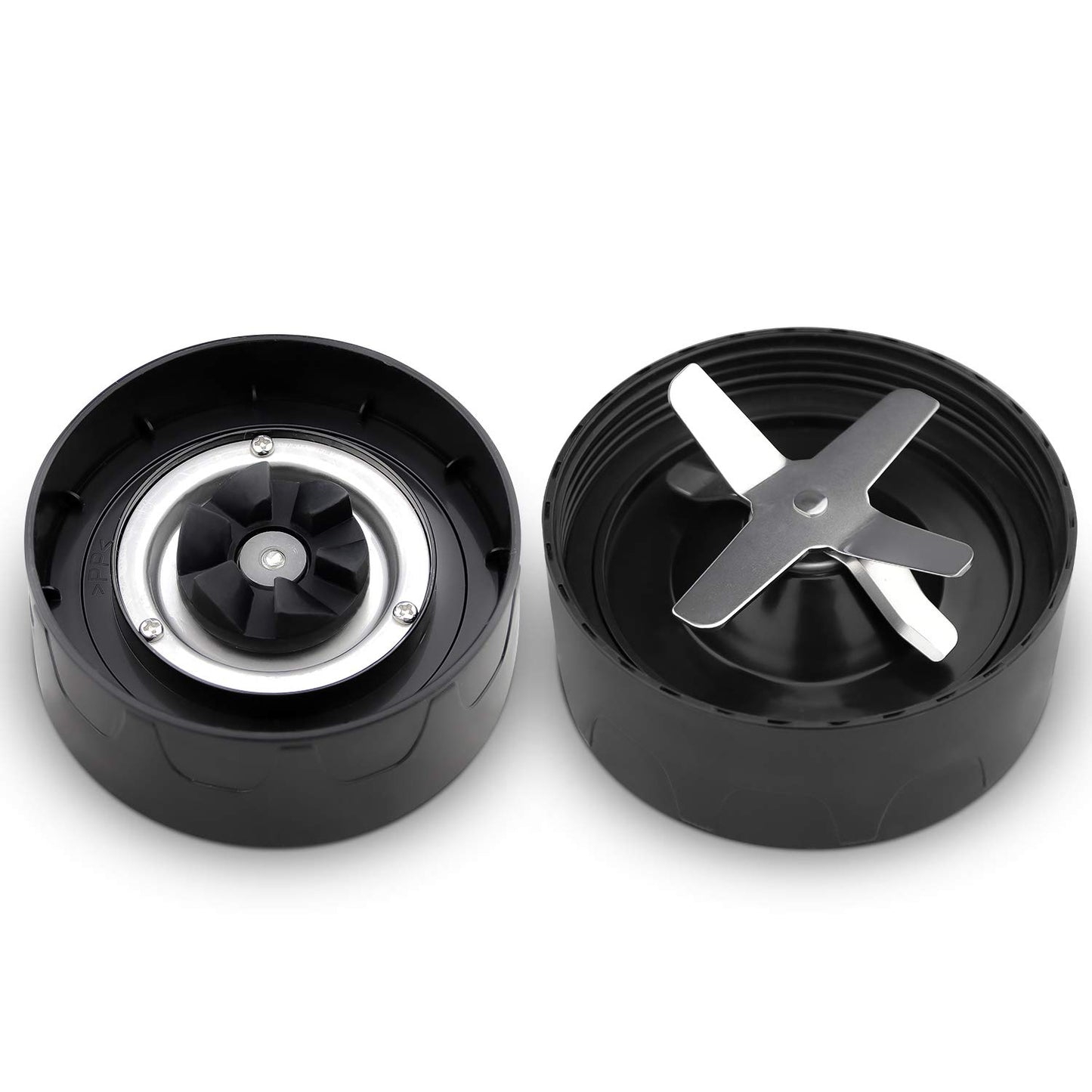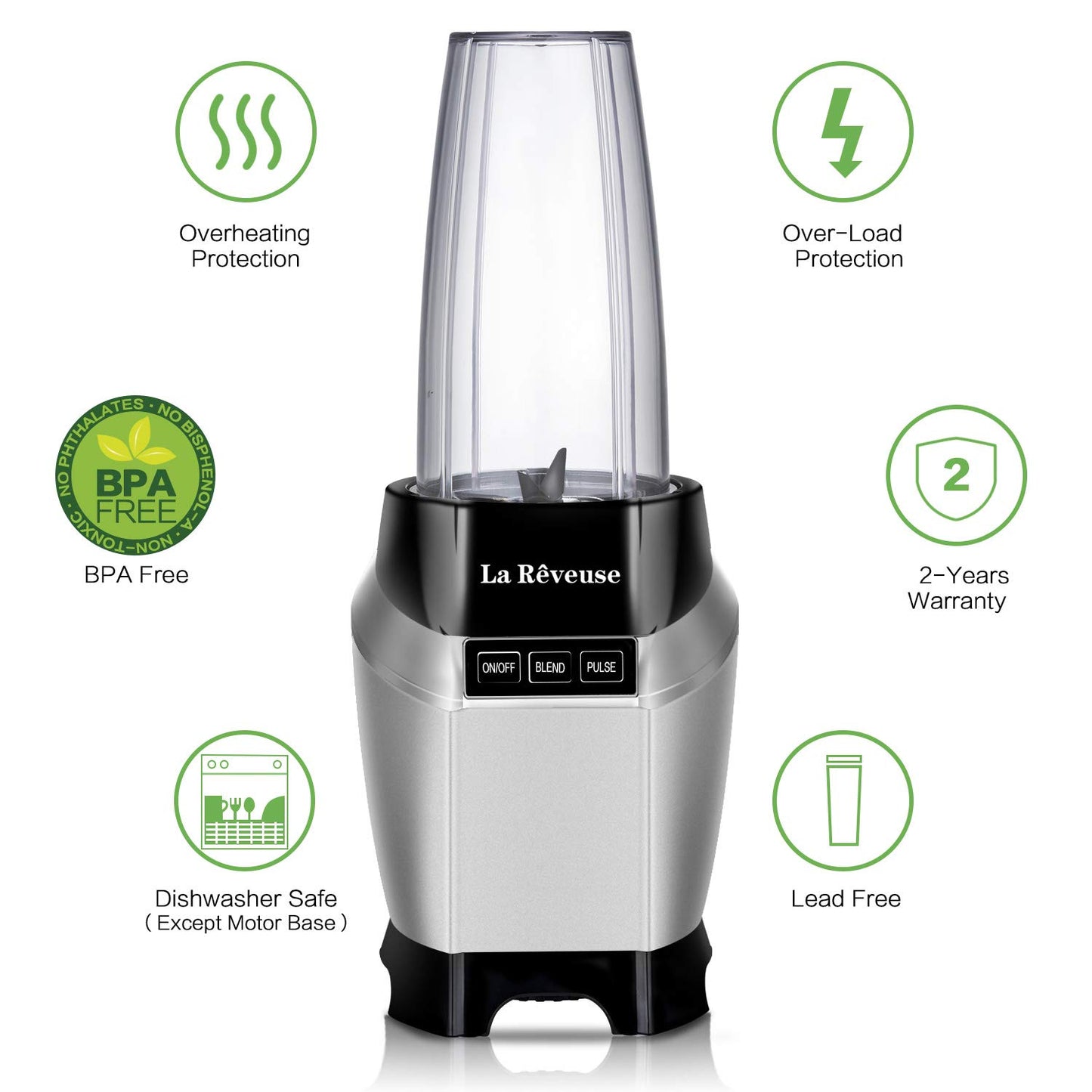 Powerful and Durable
I wanted a fairly compact blender I could take with me on my travels and most of the 'mini' blenders seemed underpowered with their 250-300 watt motors. This blender isn't as light and portable as some, but it has 1,000 watts and blends with ease. It also has a six-bladed stainless steel mixer blade that is thick and durable. I also have a Vitamix blender which I use for big jobs, but it weighs 5X as much and costs 12X as much as this one. Plus, it's a chore to clean and this one is very easy to clean. So I use this for making health drinks and smoothies and save the Vitamix for bigger jobs.
1.5 years later, still going strong
Not sure what sheerness and thickness mean for this product but... it's been a year and a half since I bought this and it continues to perform well. I should mention that I make smoothies almost every day. Makes great smoothies and shakes. I always use the "Blend" button that varies the speed and gets everything mixed. It doesn't blend it to the point of destroying the seeds bit I'm not really bothered by seeds.When I received it I wasn't sure about it because the blades are not razor sharp like other products. I can run and press my finger on the blades, they're not sharp. But that doesn't seem to affect the performance. Good product! Has been long lasting.
Stylish and powerful !!!
Very powerful, great for single size beverages. Crushes ice very well but you have to watch like any blender, the chunks can get jammed. I found that the power of this blender sometimes loosens the lid, so during the process I just remove it and make sure it's still tight. This also works for shaking up ice or frozen fruit chunks. The accompanying pamphlet says not to let it run for an extended length of time, I think, more than 1 minute but the whole process only takes a few minutes anyway. What I like of course is that the copper color looks stylish and beautiful in my kitchen. So it's not a "set it and forget it" job but seriously, it's just a blender. So 5 stars for performance and style at this price.
Blends kale smoothies smoothly ??
My husband makes a smoothie every morning for breakfast. He adds kale or spinach, berries, protein powder, chia seeds, flax seeds, peanut butter, and other things. We had a Ninja bullet that is 1000 w that sounded like it was on its last leg and wasnt blending as well any more. Not keen on spending a bunch on another single serving blender, I saw this one for much less and asked him to give it a shot. The box for both the 1000W and 600W are the same, just marked differently so I was nervous when I got it it we got the right one - the 1000W. The single serving container is large - 24 oz and thats perfect for him. It comes with a closed lid, which we will never use, and a lid to drink from. The blender is quieter than the Ninja which is easier on our little kids ears. He says it doesnt seem as powerful as the Ninja as he has to push down on it a little longer to blend, but they are both 1000W and it blends up his kale just fine. He runs a blend of soap and water on it when hes done to clean it out and hopefully it lasts a while. I like that its small and doesnt take up much counter space. With only a couple weeks use, the MAX line is almost rubbed off. Not a huge deal but could cause overfilling later in its life. It also leaks a bit when running - probably from the pressure and my husband doesnt mind but that would bug me if I made smoothies every day. The blades are interesting - there are 2 sharper ones on the bottom and 4 duller ones on top. I was concerned about it not being able to cut up kale but it does its job and is likely to protect fingers when cleaning it. Super great buy for the price compared to any others similar.Edit: our first one completely died after 2 months. Just stopped working. I contacted the company and they sent us a new one. This one doesnt leak which is great so I have hopes that it will last longer.
Great silky smoothie
Great smoothies makerI own vitamix but needed sth smaller for travel and this product is great! I made green leafy smoothie which came out very silky, perfect blender same as one from vitamix only less pricey:)