Regular price
$59.99 USD
Sale price
$39.99 USD
Unit price
per
Sale
Sold out
About this item
Universal Compatible standard 10" reverse osmosis replacement filter cartridges set,size at:2.5"OD x 10" height.Fits most standard sized 5 or 6 stage reverse osmosis systems

Pack of 8.[1 x PP sediment filter,1 x Granular activated carbon filter, 1 x Carbon block filter,1 x 50 gpd Ro membrane,1 x Post inline carbon filter,2 x Quikc fittings,1 x Seal tape]-NOTE: THE LAST STAGE POST CARBON IS 1/4"NPT THREAD INLET AND OUTLET

NSF certificated RO membrane filter down to 0.0001 micron,Reduce 99% contaminant,including Heavy Metal,Arsenic,Lead,Mercury,Fluoride,Cadmium and more 1000+ contaminants to provide healthy, safe and pure water

All Filters are individually wrapped&sealed and extend shelf life,Feed Water Condition:Water Pressure:40-100 psi,Temperate:40-110°F/5-45°C,Ph:3.0 -11.0,Max TDS :2000 ppm tap water or well water

ISO9001:2008 certificated Manufacturer,also Member of Water Quality Association (WQA),30 Days Money Back Guarantee,Please flush new filters 30 minutes
Feed Water Specification:
FEED WATER PRESSURE: 40 - 100 PSI ,
TEMPERATE:40-110°F/5-45°C ,
PH:3.0 -11.0 ,
MAX TDS :1000 PPM ,
TURBIDITY < 1.0 NTU ,
MAX SDI <4.0 ,
HARDNESS < 5 GPG ,
Shelf life: 3 Years .
Note:
1. DO NOT FREEZE.
2. Please keep flush new membrane 30 minutes. Because there is protection material in it. then, TDS of pure water will be down to right level.
3. If you have chlorinated water, we recommend you use a Carbon/Sediment Pre-Filter. The residual chlorine in municipal or city water will destroy the membrane. if hardness is too high, we recommend you install water softener before Ro unit.
More valuable information:
1. What is dimension of the Geekpure Replacement Water Filters? If not Geekpure, the filters is available to other brands Ro water purifier?
Answer : 3 x prefilters is 2.5"ODx 10" height,1 x membrane is 1.8"x12". the post carbon filter is 2"x10", all is standard size. Please don't worry. it compatible to most Ro system which its 10inch standard sized undersink ro systems .
2. What is 5 stage filters and functions?
Answer : the 1st stage: PP spun filter, Remove sand, dirt, sediment. life time:6-12months.
the 2nd stage: Granular activited carbon filter, Remove chlorine, taste & odors, very fine particulates. life time:6-12months.
the 3rd stage: Barbon block filter, Further remove chlorine, taste & odors, very fine particulates. life time:6-12months.
the 4th stage:Reverse Osmosis Membrane, High Rejection RO Membrane Removes up to 99% of contaminants including arsenic ,lead, fluoride, heavy metals and much more. life time:15-24months.
the 5th stage: Post inline acid washed coconut carbon filter, Polish water for refined taste. life time:12months.
The Life Time of the Filter Cartridge Depends on Usage Amount and Feed Water Quality.
3. What is in the box?
Answer : 1 x PP sediment ,1 x Granular Activited Carbon ,1 x Carbon Block Filters 1 x Reverse Osmosis Membrane and 1 x Post inline Coconut Carbon. And 2 x 1/4"NPT quick fittings ,1 Roll Teflon seal tape for post carbon filter.
Share
View full details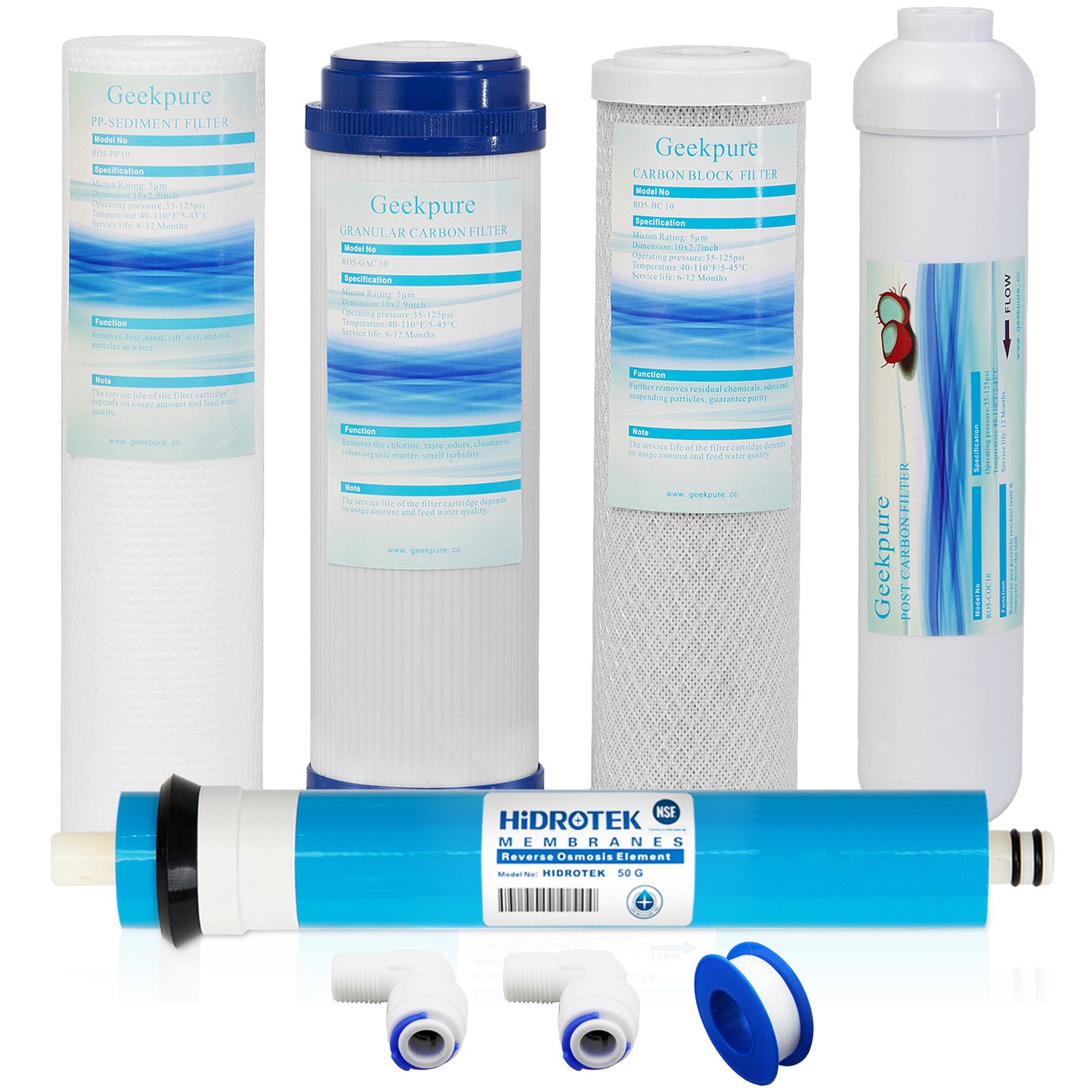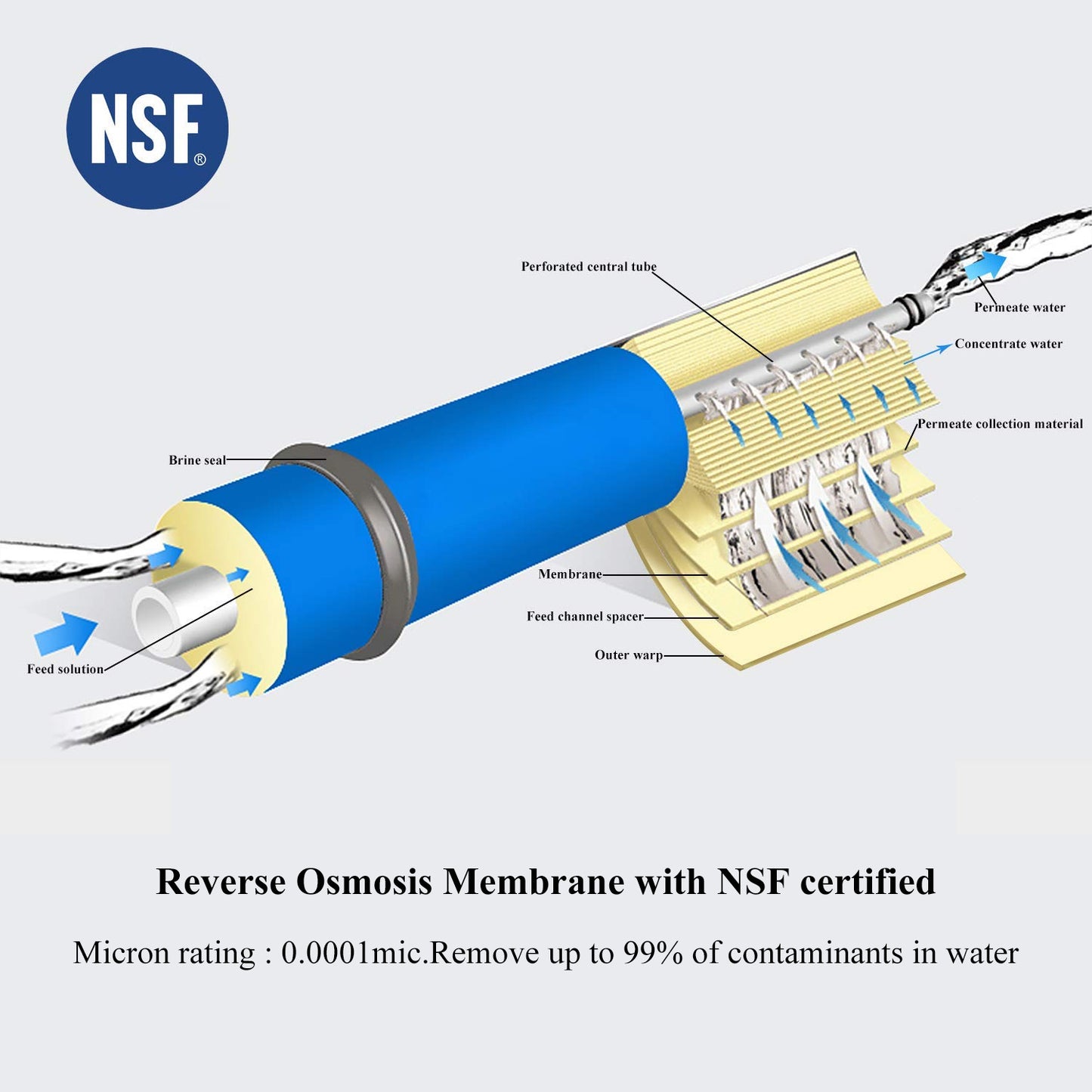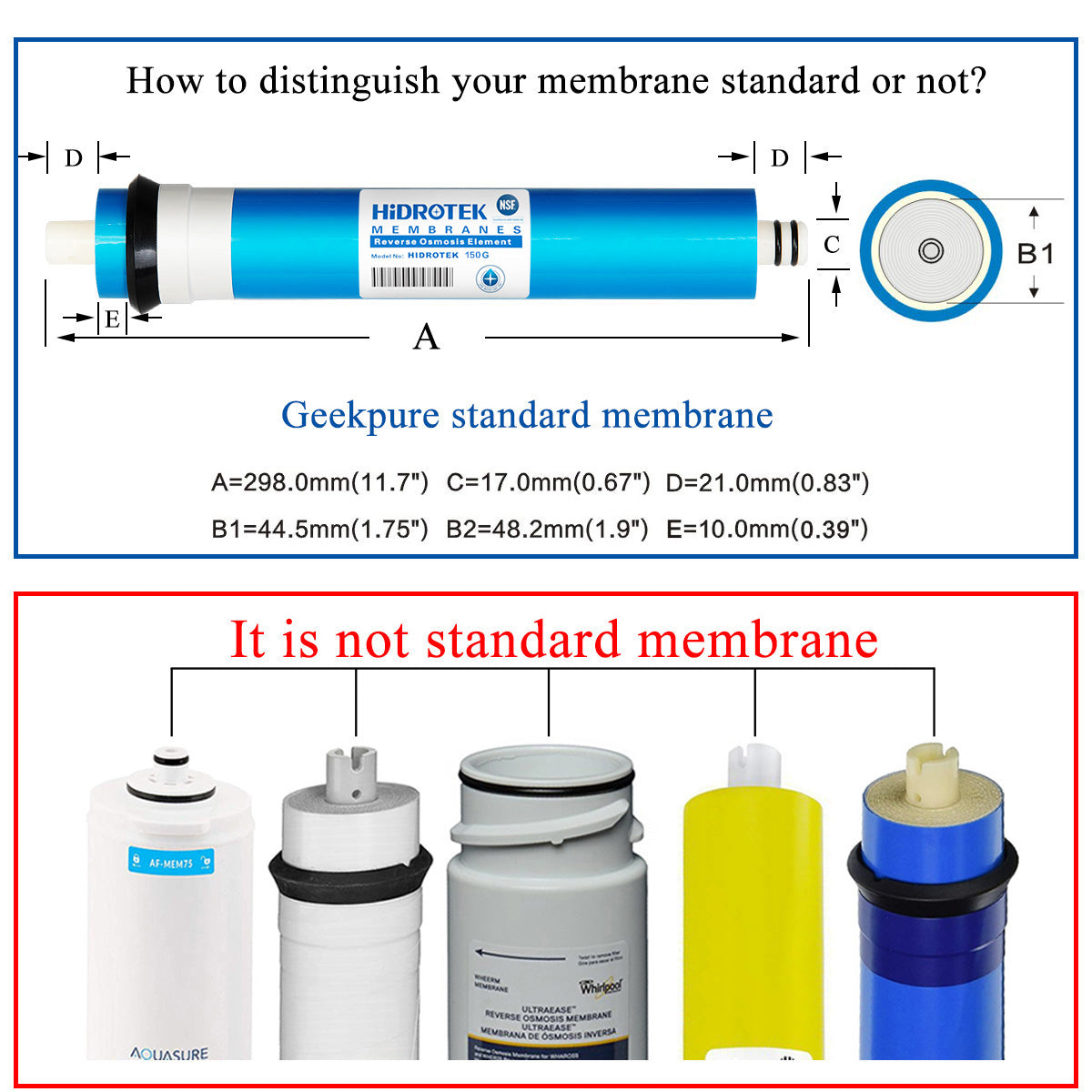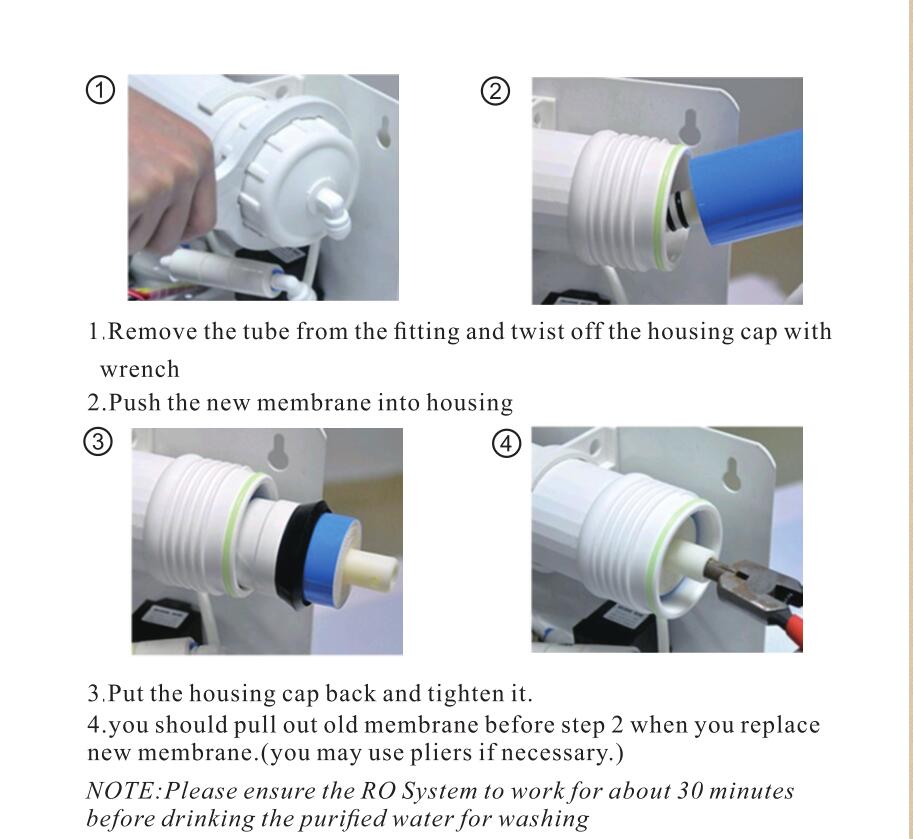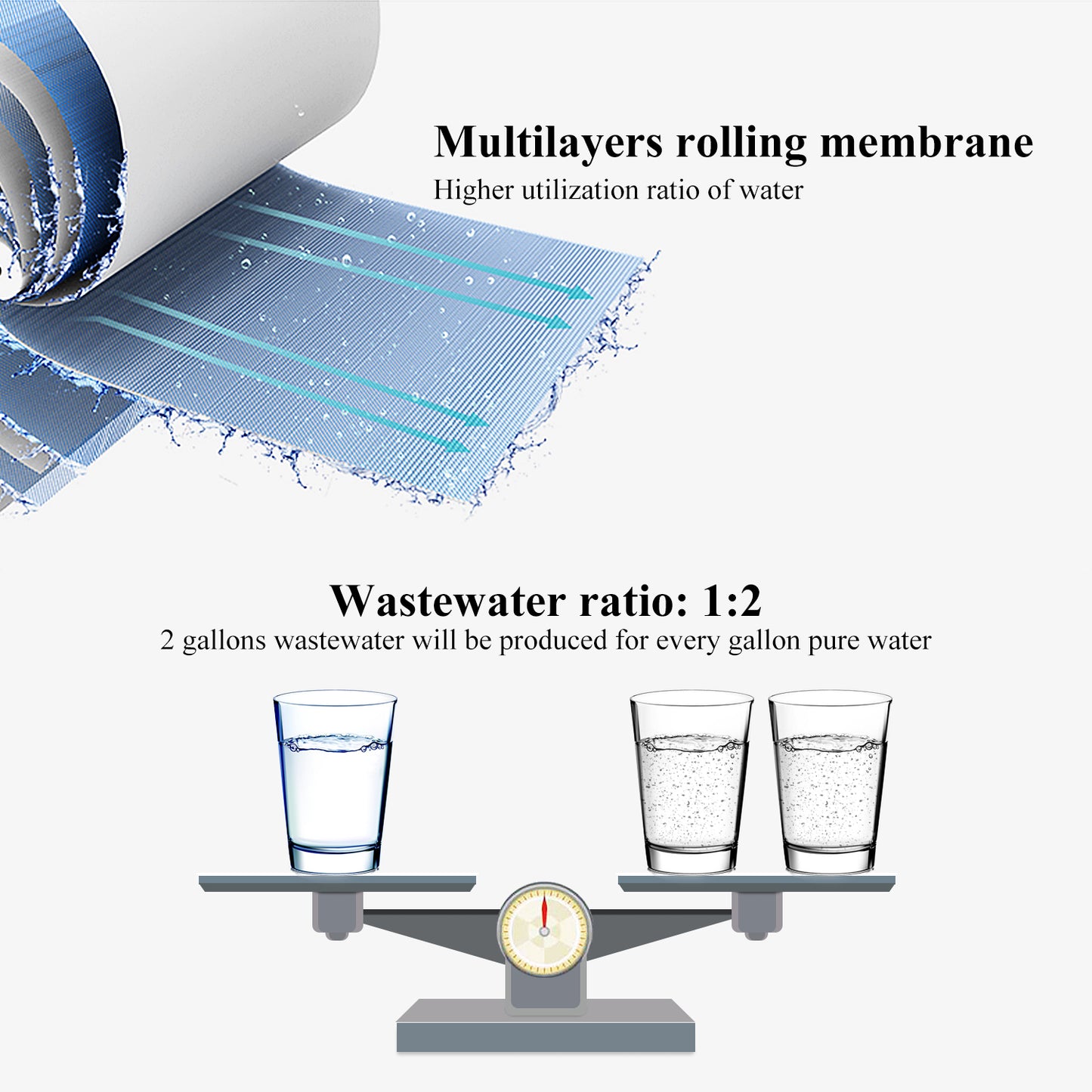 Great
Filter fit well and easy to install. However the small connector for pipes doesn't fit my unit ( water filter system purchased in Canada). Water tastes great and no more calcium buildup deposit in kettle
I still would give 5 star for quick delivery and price.
Great product
Easy to install.Water tastes great.Will probably start a routine and swap out filters every 6 months or so.
Easy replacement... excellent quality
Easy replacement... excellent quality. Works great with my current system.... And very reasonable price... Customer service is top notch as well...great communication! Will definitely buy again!
left out side the gate got wet no luck on gate
For my underneath sink 5 step filtration unit first time I am going to used this brandMy unit came with filter replacement except the one year replacement will see if the gate is not lock why not open and leave pkg at my door step other drivers do
My Go To Replacement Filter Seller
Comes fast and easy to read instructions if you haven't done it yourself before.