Regular price
$169.99 USD
Regular price
$219.99 USD
Sale price
$169.99 USD
Unit price
per
Sale
Sold out
 Advantage
Advanced Technology-5-Stage Reverse Osmosis Drinking Water Filter System,Filter down to 0.0001 micron.Removes arsenic,lead,fluoride,mercury,cadmium,odor,heavy metals and 1000+ contaminants
Replacement filters and parts are universally compatible and standard size,No worry for furtuer filter replacement ,Other brands filters fit the system

Premium quality components ensure highest reliability and low maintenance for many years to come. All tube,quick push fittings, storage tank,Ro membrane is NSF certificated,to provide healthy and pure water. LEAD FREE deluxe kitchen sink faucet as last pure water guarantee in your home

System Capacity 75 gallons per day @ 60 psi.Tank Capacity 2.8 gallon,Fits most under sink cabinets,smart size for ensure you get pure water every time.Pipe Size:1/4 inches and 3/8 inches.The Ratio of pure water and waste water is 1:2.Feed Water Condition:Water Pressure: 40 - 100 psi,Temperate:40-110°F/5-45°C,Ph:3.0 -11.0,Max TDS :2000 ppm tap water or well water

System comes with quick connect fittings, color coded tubing, and videos for an easy DIY experience,Don't waste money for professional installation ,you can understand everything about your system and install it with our well-organized instructions in a couple of hours. 1 year manufacturer warranty,no need registration

Plus extra 7 replacement filters for free and at least 2 years use
Product description
UPC:680577668133
Specification:
FEED WATER PRESSURE: 40 - 100 PSI
TEMPERATE:40-110°F/5-45°C
PH:3.0 -11.0
MAX TDS :1000 PPM
TURBIDITY < 1.0 NTU
MAX SDI <4.0
HARDNESS < 5 GPG
IRON <0.1
MANGANSESE <0.05
Shelf life: 3Years
Warranty: 1year limited warranty

More valuable information:
✪What is dimension of installed Geekpure RO5?
RO unit: Length 14.20 inch, Width 6.2 inch, Height 18.1inch.
Storage tank: Diameter 9.45 inch, Height 14.4inch.
weight:27.32lb
✪What is 5stage filter and function?
the 1st stage: PP spun filter, Remove sand, dirt, sediment.
the 2nd stage: Granular carbon filter, Remove chlorine, taste & odors, very fine particulates
the 3rd stage: Carbon block filter, Further remove chlorine, taste & odors, very fine particulates
the 4th stage: TFC Ro membrane, Reduce 99% total dissolved minerals, heavy metal, Arsenic, Mercury, Iron, lead ,Fluoride and 1000+ contaminants .
the 5th stage:Post inline acid washed coconut carbon filter, Polish water for refined taste.
✪Where can i buy replace filters?
for 1-3stage,the life time is 6-12months, please search B074XGB32J
for the 4th stage, life time is 15-24months. please search B074W72NNW
for the 1-3&5th stage ,life time is 6-12months. please search B074XCYF93
✪What is in the box?
1 complete set Ro water purifier and 7pcs free replacement filters for at least 2years use.
✪BPA free?
Yes, BPA free ,Lead free and food grade materials.

Note:
1.It Is Recommended to Wait Until the Entire System Is Pressurized (Including Storage Tank&Faucet) and Re-Check for Any Leaks Before Leaving Installation Site.
2.It Is Normal for Some Black Carbon Fines to Appear in The Water When Emptying the First 2 Tanks of Water. The First 2 Tanks of Water Produced Should be Emptied and Not Used.
3.Push the Tubing All the Way in and Use Teflon Tape During Installation.
Share
View full details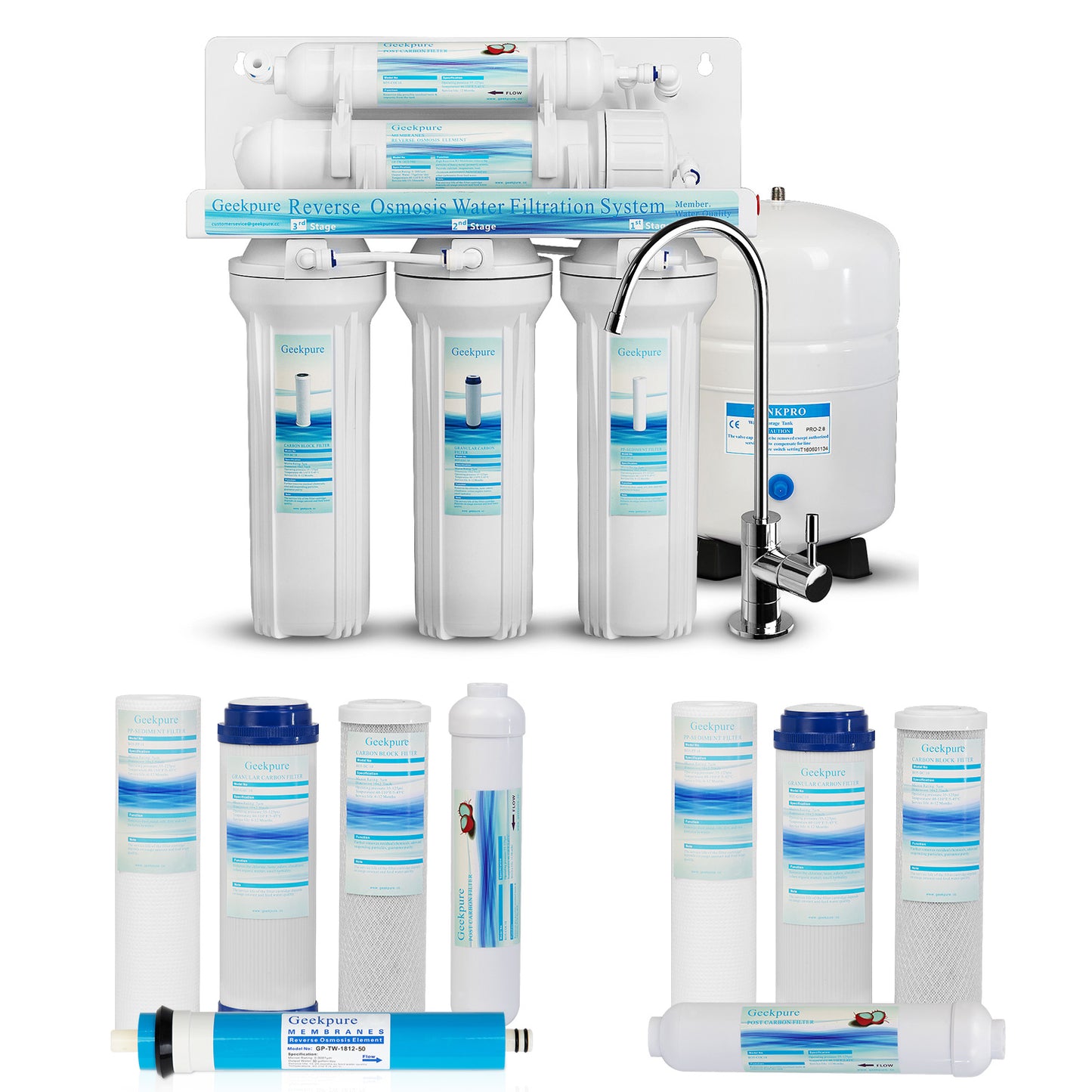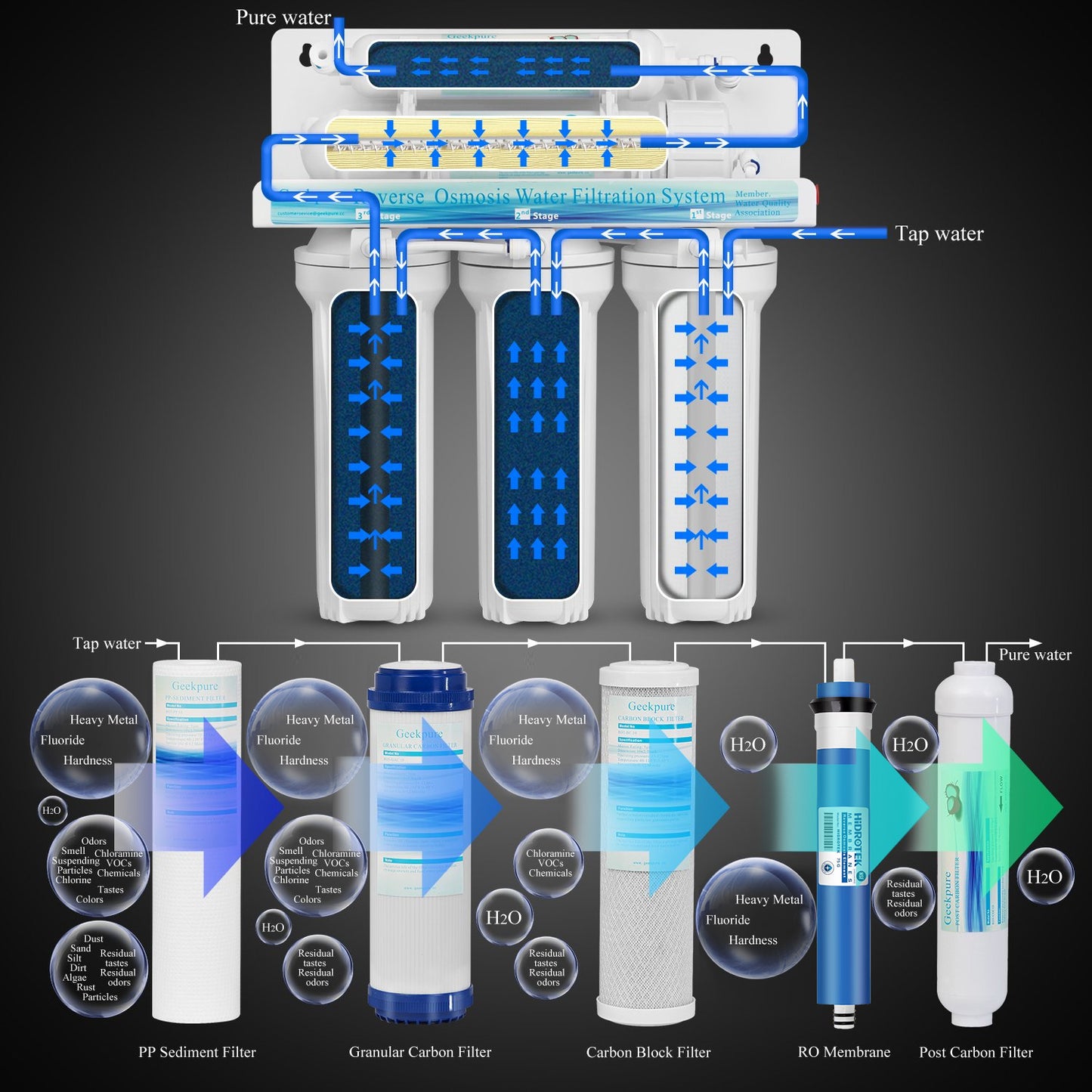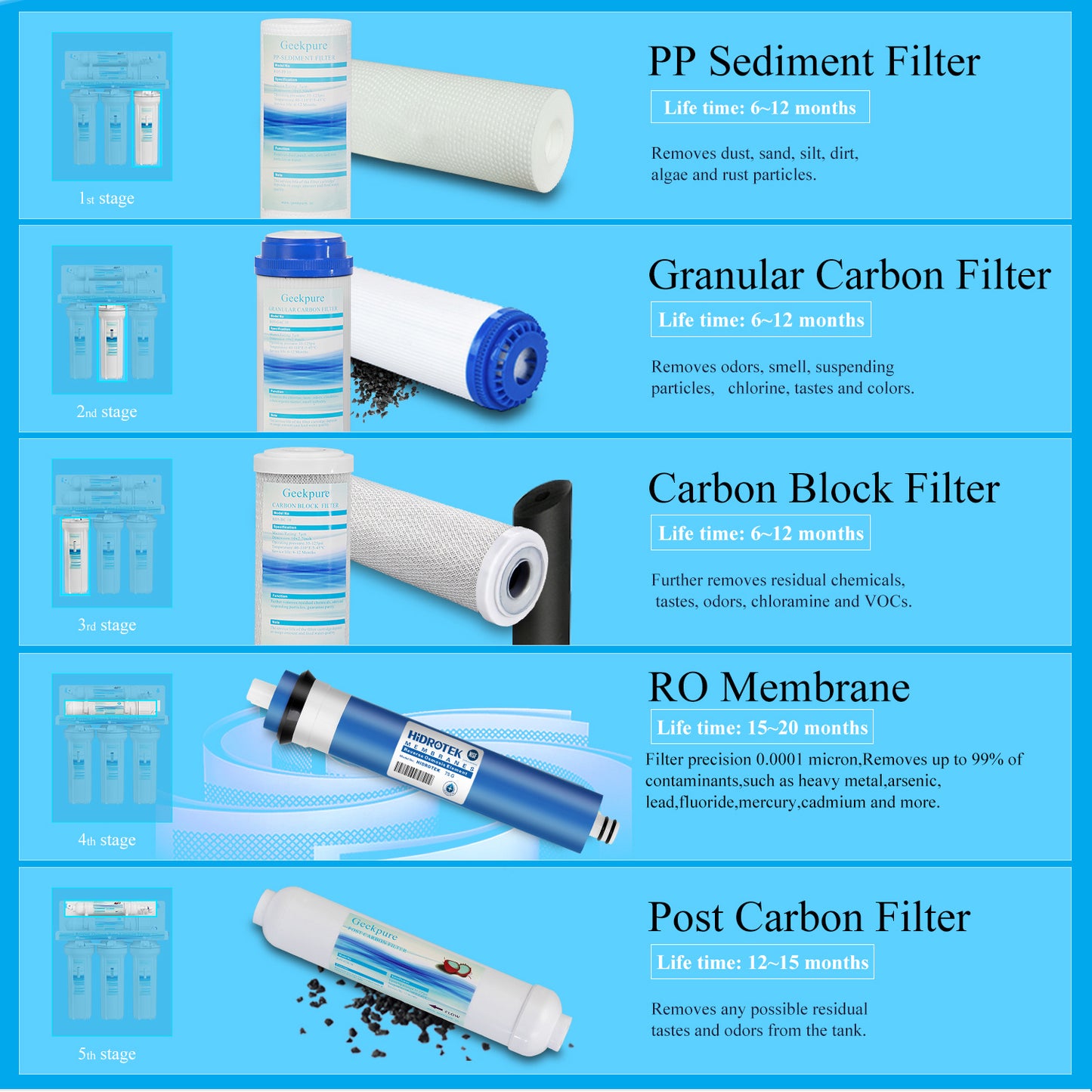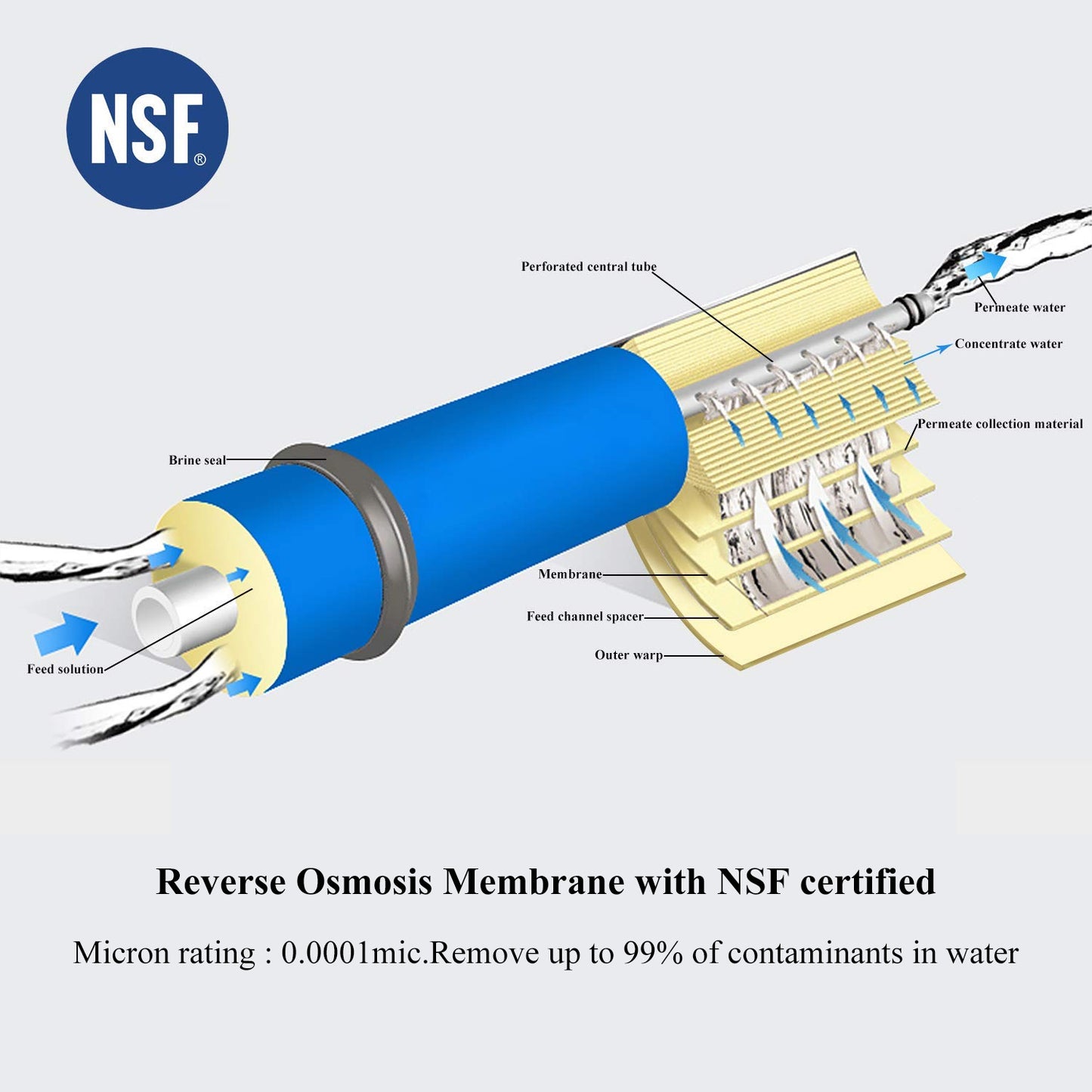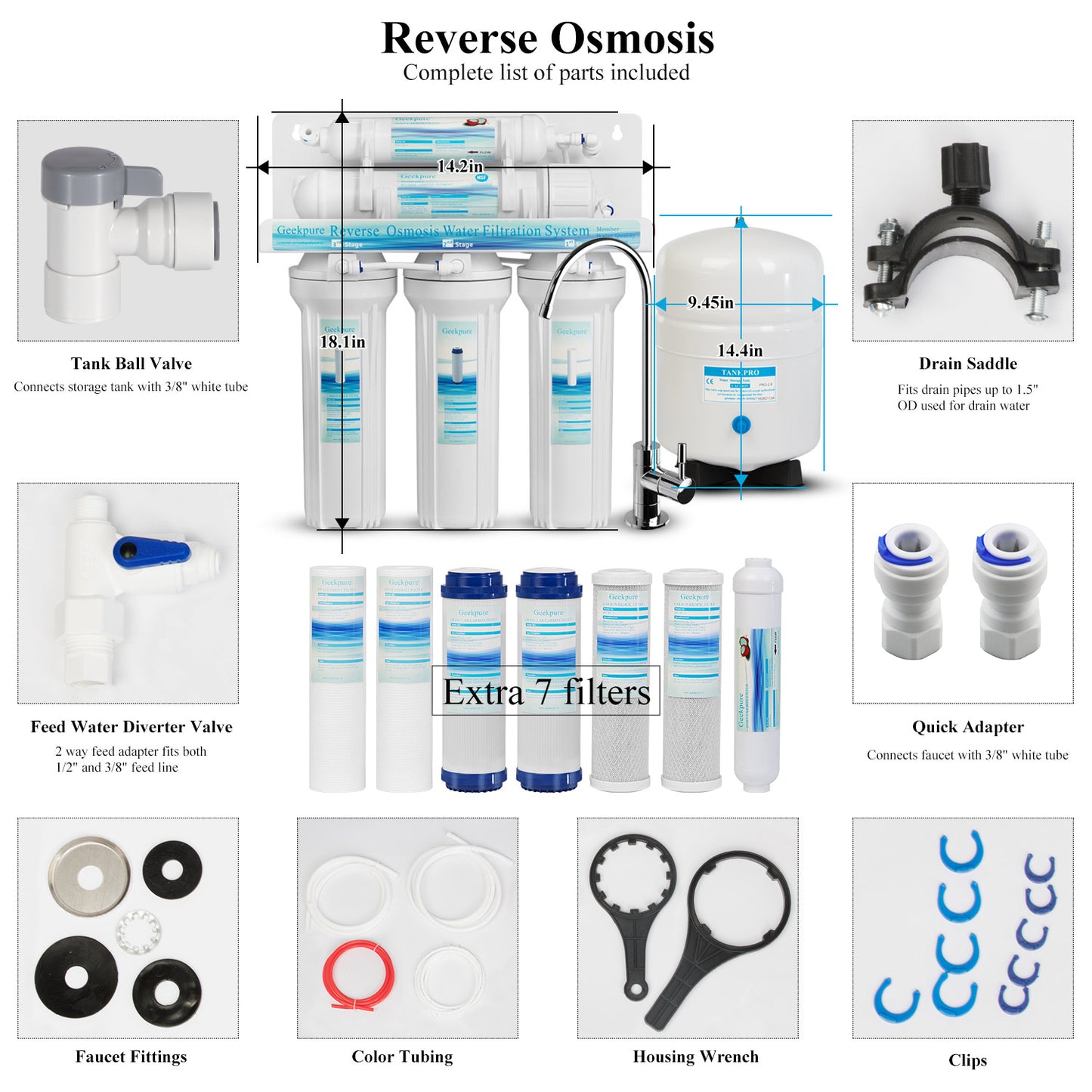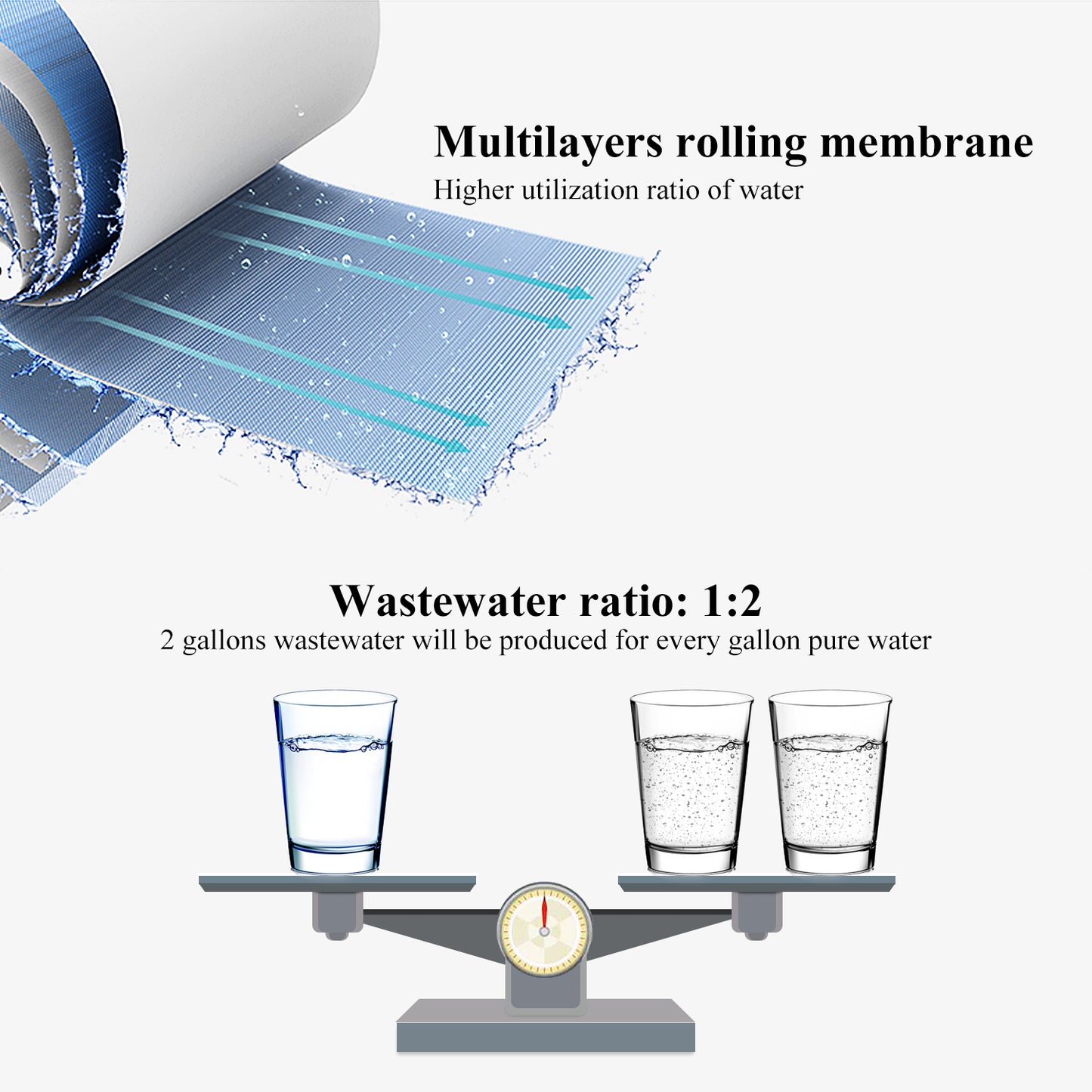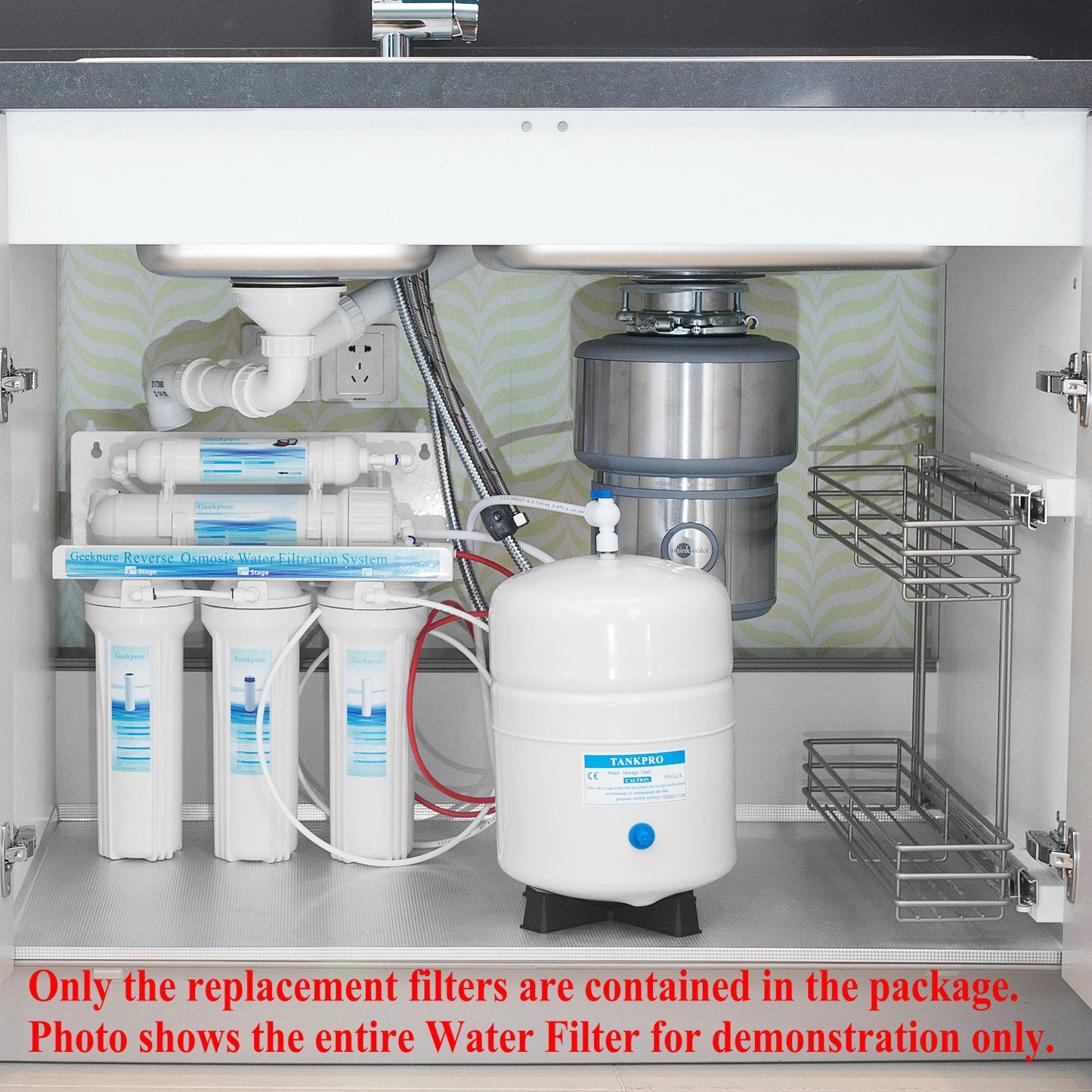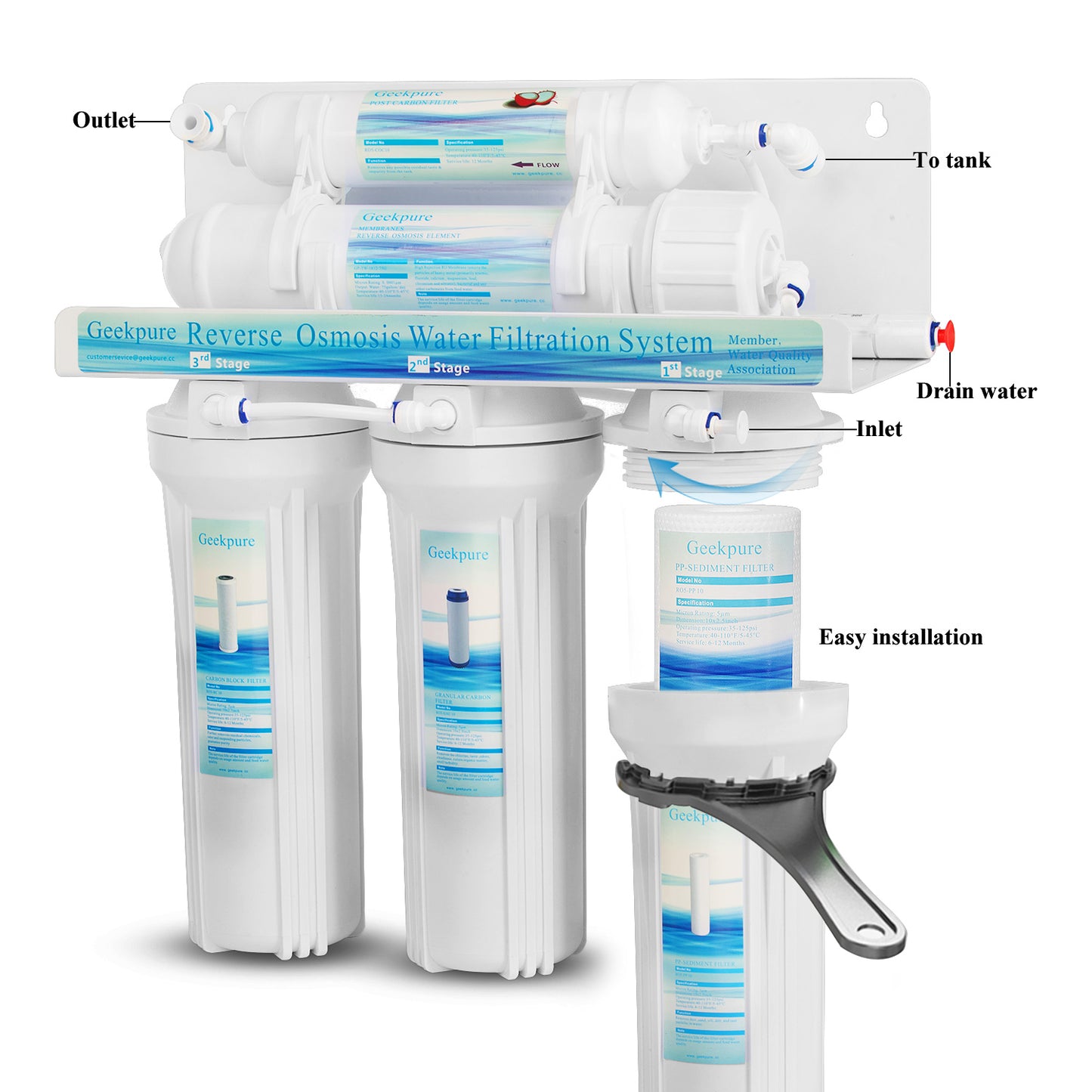 Great system. Maintenance free. Change filters is very easy. It would help if there was an indicator to tell us the filter needs changed.
Fantastic Product!
We have hard water which is rich in magnesium and calcium. After introducing this system, you can really taste the difference! I will be going through the filters very quickly with hard water since we do not own a softener . Its definitely worth the purchase! I purchased the 5 stage, is it possible to add an extra item that will reintroduce minerals?
Thank you
Damaged product
I've emailed geekpure with no response for 4 days now so here I am! I will never do business with you again. Your company cost me way more than the unit is worth by far and a lost of a client! The unit is either refurbished,returned or damaged. Housing is damaged so the oring will not seat flooding the cabinets and floor. Had to get a clean up crew to do the job so we didn't get black mold and wood damage. Does not matter at least someone could have returned my message. Feels like no one cares about the little people but at least you got your money and you are happy. Now lm out 2 units and a lot of money that I don't have to begin with so I feel very taken advantage of! I hope this never happens to you.
BEST WATER SYSTEM
I have installed this system in my house 3 years ago and never had any issues what so ever with the system. We just bought new house and moved out from the previous house to our new home. I bought the same system ( 5 stage RO ) again for our new home to have better tasting water again. I love the product so much and the water taste soooooo goood. Yes there are different products out there and their price is anywhere from $2000 to $4000 dollars. But that is over charging. Trust me GEEK PURE 5 STAGE RO WATER SYSTEM IS THE BEST I HAVE EVER TASTED. YOU CAN INSTALL THIS AT YOUR HOME BY YOUR SELF AND IT IS VERY EASY.