Regular price
$129.99 USD
Sale price
$79.99 USD
Unit price
per
Sale
Sold out
Features:
JUST FIT WITH Geekpure 3-Stage Countertop RO Water Dispenser T03 (ASIN:B084FYNT2P),Pack of 3,PP sediment filter, carbon filter and 75 GPD Ro membrane

Long lasting and specifically designed for easy maintenance, Change your twsit filters in 5 seconds, No fuss, No mess,No tools required,No tube or fitting connection,simple & straightforward,Change just every 2000 gallons

75 GPD Ro membrane, Advanced Technology-Removes up to 99% of contaminants including arsenic, chlorine,lead,fluoride,mercury,cadmium,odor  and 1000+ pollutant. Down to 0.0001 micron. Pure water to drain water ratio is 1:2

Feed Water Condition:Water Pressure Temperate:40-110°F/5-45°C,Ph:3.0 -11.0,Max TDS :500 ppm tap water

Life time is 6 months or 2000 gallons if feed water is around 300 ppm tap water

ONLY SHIP TO ADDRESS IN US,No inventory in other countries.
Specification:
FEED WATER PRESSURE: No Requirement
TEMPERATE:40-110°F/5-45°C
PH:3.0 -11.0
MAX TDS :500 PPM
TURBIDITY < 1.0 NTU
MAX SDI <4.0
HARDNESS< 5 GPG
IRON <0.1
MANGANSESE <0.05
Shelf life: 3 Years
Warranty: 1 year limited warranty

More valuable information:
✪What is 3 stage filters and function?
the 1st stage: PP spun filter, Remove sand, dirt, sediment.
the 2nd stage:Carbon filter, Remove chlorine, taste & odors, very fine particulates
the 3rd stage:TFC Ro membrane, Reduce 99% total dissolved minerals, heavy metal, Arsenic, Mercury, Iron, lead ,Fluoride and 1000+ contaminants .
✪What is in the box?
3 Pieces replacement filters in the box, PP sediment filter, carbon filter and 75 GPD Ro membrane.
✪BPA free?
Yes, BPA free and food grade materials.

Note:
1.It Is Recommended to Wait Until the Entire System Is Pressurized and Re-Check for Any Leaks Before Leaving Installation Site.
2.It Is Normal for Some Black Carbon Fines to Appear in The Water When Emptying the First 2 Tanks of Water. The First 2 Tanks of Water Produced Should be Emptied and Not Used.
3.Please keep flush 30 minutes for new filters.
Share
View full details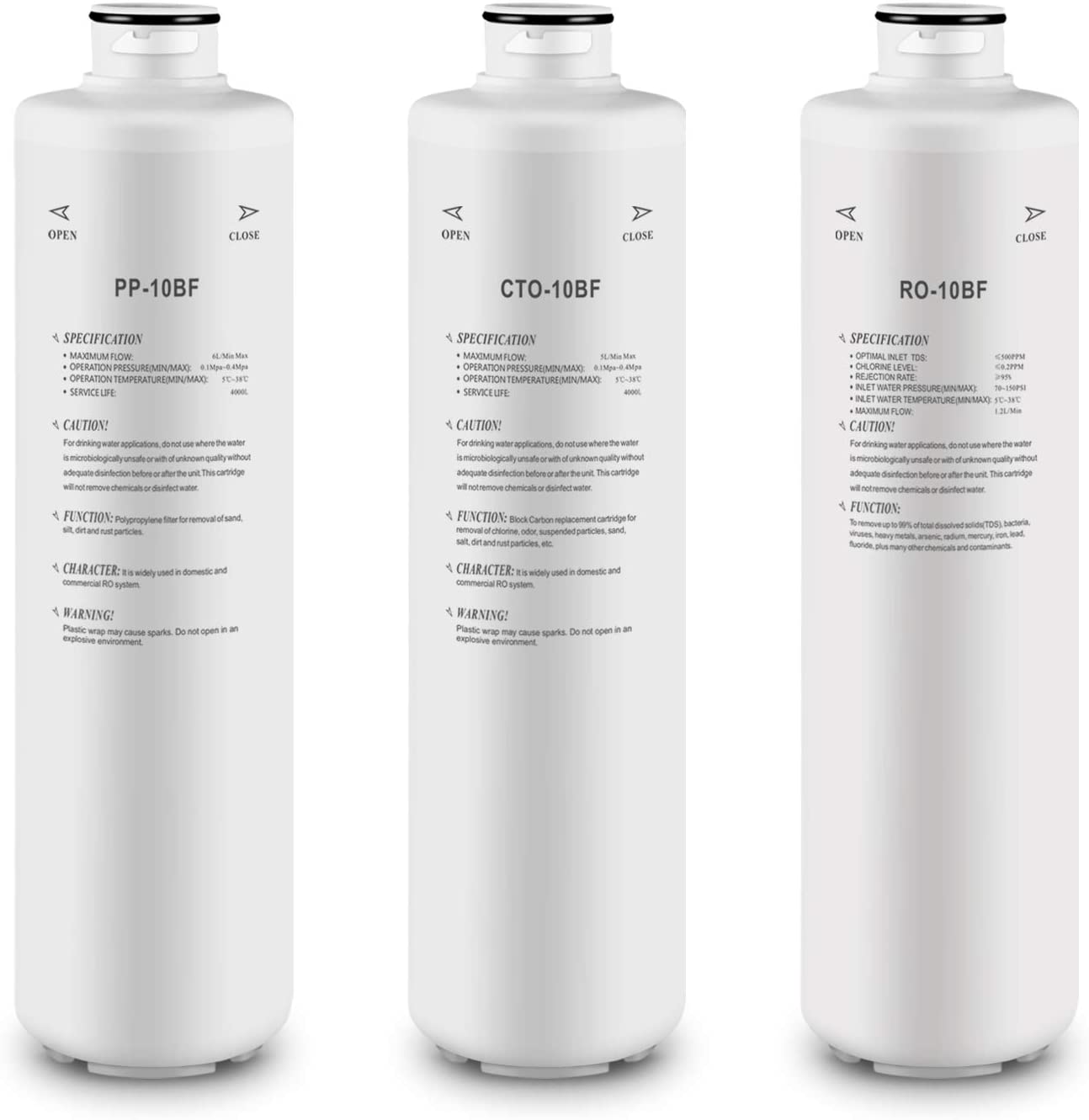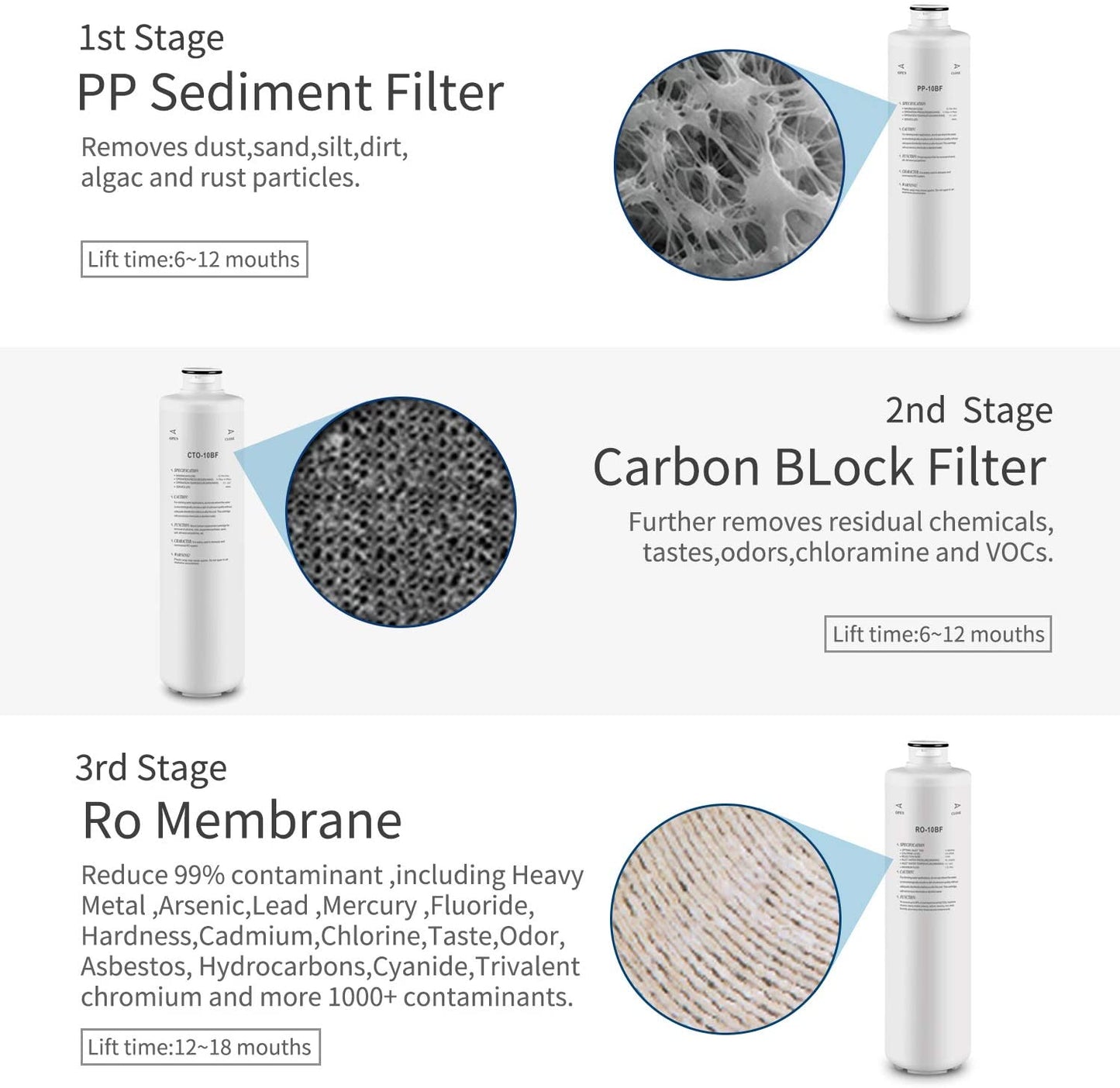 Good filters
I've had the countertop system for two years and haven't had any issues with it. It seems that you cannot buy it anywhere though. Idk how i bought it and it is no where to be found on the internet but the system is great and wish it was still around. Plus the filters are good. TDS meter on the system goes from 400PPM to 20PPM "haven't tested with personal TDS meter" though the meter on the system read that ^^